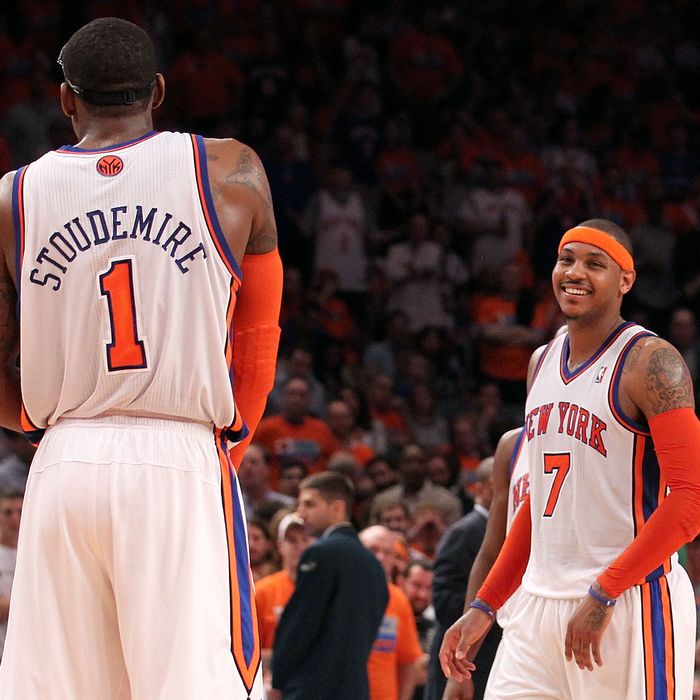 All right, boys, time to get it together.
You can make a rather strong argument that the first eight games of the New York Knicks'$2 2011-12 season — 12 percent of the whole schedule, if you're keeping score — couldn't possibly have gone worse. If you believe the Knicks should have won on the road against the Golden State Warriors (who are 1-6 against teams who aren't the Knicks and were missing Stephen Curry, their best player, when they beat the Knicks), coach Mike D'Antoni's charges have lost three games in which they should have been expected to win. (It's difficult to explain away those home losses to the Raptors and the Bobcats.) The Knicks rebounded with two road wins over terrible teams, and finally looked like the dominant enterprise they were supposed to be against the Pistons … but considering the schedule, this is about as weak a 4-4 start as one could imagine.
This is not idle chat-chat, spilled-milk-crying either: For all the talk of a team still meshing — and remember, Tyson Chandler said it would be twenty games until the Knicks had any idea who they are, which is a third of the season (and still probably before Baron Davis is ready) — the Knicks needed a better start than 4-4 because of the schedule that awaits them. Here are their next twelve games:
January 9, vs. Charlotte
January 10, vs. Philadelphia
January 12, at Memphis
January 14, at Oklahoma City
January 16, vs. Orlando
January 18, vs. Phoenix
January 20, vs. Milwaukee
January 21, vs. Denver
January 24, at Charlotte
January 25, at Cleveland
January 27, at Miami
January 28, at Houston
There are some rough Western Conference road trips: It's gonna be tough to win any of those four games. Philadelphia, Orlando, and Denver are scary home games, and those Charlotte-Cleveland road games on consecutive nights reek of a potential slip-up. That's to say, the Knicks might be fortunate to go 6-6 in their next twelve games, and by that time, we will be a third of the way through the season. And the "championship contending" Knicks — their words, not ours — will still be at .500.
This team does seem to be better than it was even a week ago. That win over the Pistons was encouraging not because of the (lame) competition, but because the Knicks started, slowly, to look like they're supposed to look. Carmelo Anthony was creating for his teammates, Amar'e Stoudemire and Chandler dunked, like, a lot, and Iman Shumpert made it rather clear that he's the best guard on the roster by a substantial margin. (When Baron Davis is ready, the Knicks' crunch-time five could very well be Davis-Shump-Carmelo-Amar'e-Chandler.) The Knicks are improving, thank heavens; we're not sure we could have watched them play the way they did against Charlotte and Toronto much longer. The question is whether or not they have already missed an opportunity, with the first eight games being as relatively easy as they were.
They had a day off yesterday and play Charlotte at the Garden tonight. Even our dire 6-6 forecast assumes they win tonight. So they best do just that.