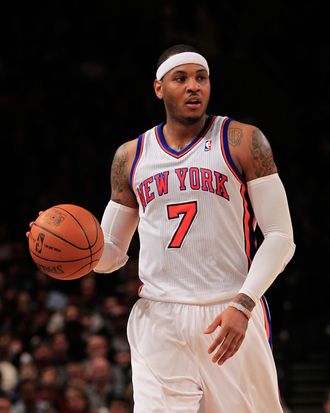 At long last, Knicks basketball has returned, and Mike D'Antoni's got a revamped lineup to shuffle. As part of our Knicks coverage all season, taking a note from Mark Lisanti's "Mad Men Power Rankings," we'll be tracking each player every Tuesday. Come join us for the Knicks Power Rankings!
1. Carmelo Anthony. (Last week: 1) It's been a sorry week of Knicks basketball — with a defensive win over the Sixers preceding three consecutive losses to the Grizzlies, Thunder, and Magic — and Anthony maintains his top dawg status if only because the Knicks looked so helpless without him. Melo, who was already hurting, got his wrist bent the wrong away in Memphis, then rolled his ankle just a few minutes later. The Knicks were already down at the time, but they collapsed in full promptly upon losing their scoring leader. And the Knicks shouldn't have even bothered traveling to Oklahoma City with Melo sidelined — the Thunder couldn't be contained and the New York offense wouldn't have cracked 90 points without the extended garbage time. So, Melo was compelled to return prematurely, and despite having a sore guiding hand and a balky jumping foot, he accounted for more Knicks offense than ever in his return against the Magic. Anthony posted a 52 percent usage rate on Monday (that is, 52 percent of Knick possessions while Melo was on the floor ended with him attempting to score or turning the ball over), the greatest helping of one game's possessions he's ever consumed as a Knick. He took 27 shots and 16 free throws — both more than the rest of the starters combined and more than double any other Knick's attempts — and, again, did so with a sprained ankle and a wrist so flimsy that he "couldn't really control the ball." And the crazy part is that I don't think I would have had Anthony do otherwise. With no starting point guard to direct the ball movement and not a single rotation player who can be relied upon to hit an open jumper, the Knicks offense right now is Melo. Perhaps we will revisit this issue when Baron Davis joins the rankings.
2. Tyson Chandler. (Last week: 2) In an otherwise stinky season to date, it's been fun to watch Chandler defend. I hyperventilated a bit about it in Monday's recap, but really, if you've been watching the Knicks for the last decade or so, you can't help being tickled by the sight of a Knick — a Knick! — stifling Dwight Howard. Chandler's offense, meanwhile, evaporated somewhat with Anthony hobbled. He, as much as any Knick, must await the debut of Davis (or a passing epiphany from some other teammate) to get touches in good position to score. It's no fun watching Chandler catch the ball way too early in transition or seeing passes hit him in the nipple as he rolls to the rim. A steady point guard, one hopes, might correct that.
3. Josh Harrellson. (Last week: 6) I'm always torn over how sensitive to make these rankings: Should they be totally cumulative, or influenced predominantly by the last week's play? Since I doubt anybody cares but me, here we are with Harrellson in the third spot. While the folks above him either fell off or failed to improve over the past week, Harrellson only stepped up his vital contributions off the bench. On a team that takes and misses a lot of threes, Harrellson is emerging as the team's top deep threat. Yes. If you predicted that in the off-season, then, well, you're full of shit. Harrellson rebounds, too, and he's the rotation's best interior defender outside of Chandler. He really shouldn't be third on this list, but …
4. Iman Shumpert. (Last week: 3) … Shumpert fell off pretty dramatically after a fine first week as the Knicks' starting point guard. Savvier defenses have learned to sag off Shump and let him pull from the perimeter, and he's responded with some ghastly percentages. Thursday's 5-20 outing against the Grizzlies was on national television, and thus the subject of much ridicule. Shump reined in his attempts in the games thereafter, but still hasn't looked quite as comfortable as before in running the offense, which is understandable for a rookie at this point in the season. His defense, though at times a bit jumpy and overambitious, continues to produce turnovers and easy scores on a regular basis, which is a major boon to the otherwise janky Knicks transition game. All told, the guy's come back to earth a bit as teams have figured out how to defend him. He'll fit much better playing off the ball and/or off the bench once Davis is healthy (I keep mentioning that guy!).
5. Amar'e Stoudemire. (Last week: 4) … Amar'e just can't get anything going. Without any pick-and-roll setups or quality transition touches coming his way, Amar'e is left to try and fail at conjuring offense for himself. It's been pretty discouraging, and only worsened by the disruptive influence of Stoudemire's nightly foul troubles. Stoudemire, more than anybody else, needs a point guard to help him rediscover his offense. In the meantime, something needs to change.
6. Landry Fields. (Last week: 5) … Fields just keeps getting burned by opposing shooting guards dribbling, cutting, and curling over screens. He, along with Amar'e, is the Knick player who teams seem to feel most comfortable attacking these days. And all of that is why Josh Harrellson is ranked third.
7. Jared Jeffries. (Last week: Injured) Jared's back! That means help defense, charge-drawing, hustle, occasional horrid jumpers, and perpetual mouth-breathing are all back as well!
8. Toney Douglas. (Last week: 8) Make no mistake, Toney isn't Doing What Toney Douglas Do just yet, but there were at least some signs of life this week. Toney did more to push the ball and get himself attempts near the rim, and actually achieved some success on his (better) attempts from outside the paint. Douglas still has a long way to go, but it was mildly reassuring to see him do something of merit this past week.
9. Bill Walker. (Last week: 9) Bill the Bully had a pretty good shooting performance in Memphis and put one DOWN on Serge Ibaka during the blown-out bonanza in OKC, so, uh … cool!
10. Mike Bibby. (Last week: 7) We liked it better when he was hitting ALL of his threes, not just some of his threes.
11. Renaldo Balkman. (Last week: 10) More garbage time heroics from Humpty: A dominant twelve points and four rebounds in the aforementioned blowout loss to the Thunder! YEAH!
12. Steve Novak. (Last week: 12) Steve appears to be favoring an orange elbow sleeve nowadays. This has been The Steve Novak Fashion Minute.
13. Jerome Jordan. (Last week: 11) Jordan really looks intriguing when he gets minutes, but those minutes are few and far between.
14. Jeremy Lin. (Last week: 13) I've got nothing. Here's a lion with lady hair.
Injured: Baron Davis. Heal, Baron, heal.