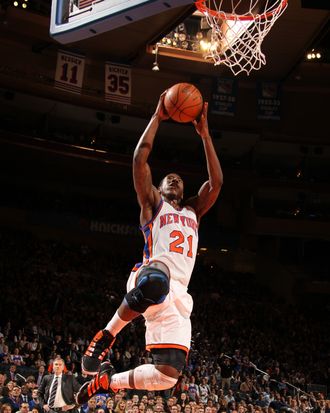 Iman Shumpert has been pants-wettingly terrific in his new starting role.
At long last, Knicks basketball has returned, and Mike D'Antoni's got a revamped lineup to shuffle. As part of our Knicks coverage all season, taking a note from Mark Lisanti's "Mad Men Power Rankings," we'll be tracking each player every Tuesday. Come join us for the Knicks Power Rankings!
1. Carmelo Anthony. (Last week: 1) The Knicks have won three straight against Washington, Detroit, and Charlotte since dropping consecutive stinkers against the Raptors and those same Bobcats. Anthony gave the Knicks a slightly different look in each of those three games. In the terrifyingly narrow victory over the Wizards, he operated mostly in isolation, just throttling poor Chris Singleton en route to 37 points, including the game-winning jumper. He also managed to screw up his back/side/backside in the process, which might explain a down-tick in scoring in the ensuing two wins. On the other hand, Melo's more generous side came to hang out for stretches of the last two — he tossed a season-high seven assists on Saturday, then had six more Monday night, most of which benefitted Tyson Chandler. Those two are really starting to get attuned to one another, with Chandler slipping screens and Anthony dishing over and through defenders to produce easy buckets, often in the form of seismic dunks. It's for that very reason that the Knicks' tendency to revert to the "Let's All Relax And Admire Melo, Here Put These Cucumber Slices Over Your Eyes" offense in fourth quarters can get frustrating. Anthony is, at times, capable of closing games in the context of a completely stagnant offense, but that doesn't mean that has to be the first and only option.
2. Tyson Chandler. (Last week: 3) Chandler's starting to get fed the ball when he's hungry for it, and his defense and rebounding have been closer to their advertised potential as well. Slowly but surely, the guys surrounding Chandler are taking more accountability for helping and rotating after defensive switches, which means the new guy isn't constantly saddled with covering five men, then cleaning up any subsequent mess. Chandler's a sight to behold when allowed to play his own position. He terrorized unsuspecting Bobcats on Monday, blocking shots and forcing turnovers with resounding force. He's pulling down boards, too, averaging over twelve per game during this little winning streak and single-handedly denying Charlotte second opportunities down the stretch on Monday. This is what everybody had in mind when Chandler signed that contract a month ago (hard to believe it's only been a month, eh?). 
3. Iman Shumpert. (Last week: Injured) Shumpert gets the third spot in these rankings because he's been pretty damn powerful since returning from injury. The rookie stepped promptly into heavy minutes in his return, then took the next step into the starting lineup after just a couple of games. And while there have been occasional mistakes, Shump's made Mike D'Antoni look savvy for putting him there and made Knick fans swoon in the process. On offense, Shumpert's ability to penetrate has given the team a totally different look. He's been surprisingly adept at feeding his friends off the dribble, and has looked for his own shot sensibly and at the right times, which is a welcome departure from the fits of chucking we saw from him early on. The kid's greatest contribution, though, has been on the defensive end, where he just menaces opposing point guards. Shumpert's been good for a couple of forced turnovers each night simply by being bigger and scarier than his opposition. Only a few games into his career, he's already made a habit of mugging folks in the backcourt, then loping coast-to-coast for uncontested flushes. There's room for Iman to grow, (particularly in his conditioning — the guy has to sit with leg cramps on a nightly basis), but he's been nothing short of spectacular since returning from injury. He kind of makes me feel like crying sometimes — and in a good way, not in a Toney Douglas way.
4. Amar'e Stoudemire. (Last week: 2) Stoudemire's not playing poorly, but he still just doesn't look right. We're still not seeing much pick-and-roll motion for Amar'e, (though he and Shumpert did have a few sparks in Detroit) so it's been more of those dreaded bull rushes toward the basket, converging defense and open teammates be damned. The Knicks' offense is still working at a deliberate, one-thing-at-a-time pace, so Stoudemire's often been left to spectate and fend wildly for himself whilst Anthony and Chandler make alley-oop magic. Eventually, all of the gears will turn simultaneously as part of a coherent machine, but we're just not there yet. In better news, Stoudemire seems to have returned from his ankle injury with a renewed will to rebound. He pulled down eleven per outing this past week, including plenty of offensive rebounds that led to second opportunities around the basket. That's a terrific way for Stoudemire to contribute while his role in the offense still isn't entirely clear.
5. Landry Fields. (Last week: 6) Fields still isn't providing much offense to speak of — the Knicks could really use some corner threes from the dude, but he just hasn't been connecting — but, at least to these eyes, his defense has been improved over the last few. Perhaps because he's got a more helpful backcourt mate in Shumpert, Fields has done a Landrier job of tracking opposing twos. He kept Gerald Henderson relatively in check on Monday after Henderson torched the Knicks last Wednesday, and also played a role in cooling off Ben Gordon's hot start on Saturday. Still, we'd all really like him to make some open threes off the catch. He's just 5-24 from downtown so far this season.
6. Josh Harrellson. (Last week: 5) The Knicks' other rookie continues to use whatever minutes he's allotted to soak up rebounds, make a few clever defensive plays, and provide at least one wonderful semi-highlight (be it ripping the ball out of someone's hands or attempting an incredibly awkward, floor-bound put-back attempt). Since he can't wear jorts on the court, Harrellson still seems like he could use one defining attribute to befit his role as the rebounds 'n' hustle guy off the bench. The notion of a mullet has been discussed on Twitter, and I'd also add the possibility of a set of surgically implanted antlers to help Harrellson distinguish himself or fend off competing males.
7. Mike Bibby. (Last week: 8) I received an e-mail this past week from an "old lady from the Philippines" who professed a career-long love for Mike Bibby and expressed sorrow for the contempt for Bibby at P&T and, well, pretty much everywhere on the Internet. It served as a reminder that everybody — even the congealed Mike Bibby — has a fanbase, and it made Bibby's two-game run of brilliant three-point shooting this week that much sweeter. If he can provide that kind of outside touch on a consistent basis, my new Filipina friend might not be alone in singing his praises. First, he has to play three consecutive games without sustaining some small muscular injury.
8. Toney Douglas. (Last week: 4) Listen, I hate putting Toney down here and I hope beyond hope that he'll rise in the coming weeks, but the return of Shumpert made it even clearer that Douglas is hurting the team when he's on the floor. We know he can defend and we know he can hit open shots, but he's failed to do both and, as the point guard, sapped New York's team play in the process. And if it's that surgically repaired shoulder that's bugging Toney, then he needs to be a little wiser about running face-first into hard screens set by opposing big men. I want so badly for Toney to get back to Doing What Toney Douglas Do or, as he most recently put it, "doing what Toney is capable of doing". Please, Toney. We know you've got it in you.
9. Bill Walker. (Last week: 7) It kind of seems like all Walker does anymore is miss threes and foul people late in the shot clock. He's quite proficient at both, though.
10. Renaldo Balkman. (Last week: 11) Balkman's minutes have curiously alternated between double-digits and DNP-CDs over the last five games, though his most recent stint came entirely during garbage time in the blowout win over the Pistons. 
11. Jerome Jordan. (Last week: 10) Jordan seems to be out of D'Antoni's rotation, (which traditionally gets tighter as the coach gets used to his roster) but there may be some minutes for him down the road. Tyson Chandler's playing pretty heavy minutes so far, and his legs would probably benefit from some added rest as the season progresses. First, the Knicks need to start regularly putting away bad teams so they don't desperately need Chandler down the stretch.
12. Steve Novak. (Last week: 9) Novak also appears to have been relegated to garbage time duties, though it seems at times like the second unit could really use his shooting. 
13. Jeremy Lin. (Last week: 12) Jeremy scored his first basket as a Knick! And there ends the list of positive things I have to say about Jeremy.
Injured: Baron Davis, Jared Jeffries