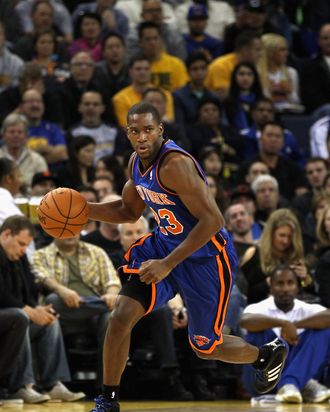 At long last, Knicks basketball has returned, and Mike D'Antoni's got a revamped lineup to shuffle. As part of our Knicks coverage all season, taking a note from Mark Lisanti's "Mad Men Power Rankings," we'll be tracking each player every Tuesday. Come join us for the Knicks Power Rankings!
1. Carmelo Anthony. (Last week: 1) Melo's in a tough situation. One teammate after another has succumbed to injury, and he's left surrounded by an incongruous, inconsistent group that needs all of his help to compete. The question for Anthony is whether to provide said help in the form of isolation scoring, which he's certainly tried, or setting his teammates up to score, which he's also tried. If Melo dominates the ball, the team could get disorganized and lethargic. If he shares, then guys like Toney Douglas and Josh Harrellson are the ones being relied upon to score. Neither option is ideal, so Melo's done what he can to strike a balance, albeit in a characteristically streaky fashion. Overall, the guy's performing pretty well and, given the situation, one really can't complain much about his play. No more than usual, anyway.
2. Amar'e Stoudemire. (Last week: 2) Amar'e missed the last two games after spraining his ankle against the Lakers. Before that, he'd looked a bit out of sorts, resorting to off-balance jumpers and the sort of hurtling dribble-drives we came to despise during stretches of last season. Much has been made of Stoudemire's perimeter-heavy attack in the first few games: About half his attempts through three games were from sixteen feet and beyond. That's undeniably too much remote work for one of the game's best finishers, but those are shots he can hit and should feel comfortable pulling if his timing's right. The main issue, to me, was that Amar'e wasn't catching and gathering himself crisply and didn't step into his shots. One hopes to see Amar'e get more looks off rolls to the basket when he returns, but also look for him to spread the floor and create lanes by shooting those jumpers more confidently. In the meantime, the Knicks looked fine without Stoudemire when they got hot from outside against a terrible Kings team. Against an unterrible Raptors squad last night, they were desperately in need of his presence.
3. Tyson Chandler. (Last week: 3) One bit of good news is that the rest of the Knicks seem to have awakened to the fact that Tyson is quite tall and a pretty handy gatherer of lob passes. In fact, there were a few instances last night when Knicks tossed Chandler lobs without even having his attention and watched them sail into the crowd. Still, it's a good sign that folks are trying to feed the big man, even if there are mistakes along the way. Defensively, Chandler's occasionally found himself too far out of the paint in New York's aggravatingly switch-friendly defense, but he's done his best to recover, protect the rim, and direct his teammates. The main thing Chandler needs to work on for the time being is keeping his hands to himself (also, coloring in the lines). Chandler's minutes in the last two games were limited by foul trouble, and not even useful foul trouble. He just keeps getting caught reaching and bumping into folks when they're facing the basket, which shouldn't be necessary for a long-limbed seven-footer such as Chandler. As with Melo's offense, Chandler's defense is about striking a balance. He'll often be relied upon to stop everything and cover for everybody, but he also needs to pick his battles and know when to back off to preserve his own availability. It's a tough task.
4. Toney Douglas. (Last week: 4) There have been few, fleeting glimmers of adequate point guard play from Douglas, but for the most part, he's either draining threes or just making a mess out there. Tina Cervasio reported over the weekend that the coaching staff gave Toney a lot of film of his best games from last season to serve as encouragement and guidance. He's since looked a bit more willing to push the pace and penetrate, both of which are suitable alternatives if he's not comfortable distributing from a standstill. Expecting Douglas to run the entire offense appears to be too much, so all the Knicks ask of him is to play productively within his comfort zone until Baron Davis is healthy or Iman Shumpert proves himself. If he's had at least one efficient shooting night by this time next week, that'd constitute progress.
5. Josh Harrellson. (Last week: 10) So, uh, Jorts, eh? How about this guy? In Stoudemire's absence, the Knicks' cuddly second-rounder stepped into a starter's minutes and, at least on Saturday, filled the void quite ably. After shooting the lights out (who knew!?) and shutting down DeMarcus Cousins in his first start, Harrellson fell back to Earth last night, shanking his threes horribly and struggling to cover Andrea Bargnani on the move. The bejortsed one has made it clear what he has to offer, though: solid defense, plucky rebounding, and, apparently, the occasional spurt of perimeter excellence. He should be a productive member of the second unit once Stoudemire returns. 
7. Bill Walker. (Last week: 7) Walker is pretty much the only swingman the Knicks have on their bench, and he was the reserve who logged the most minutes this past week. Like everybody else, he's looked up to the task at times — shooting accurately, passing the ball surprisingly well — but has also succumbed to lethargic offense and careless, mistake-prone defense for stretches of his court time. And he's still sporting those little baby cornrows (baby corn rows?).
8. Mike Bibby. (Last week: Injured) I'm inserting Bibby here after completely forgetting to include him in my initial rankings. I suppose that makes sense, because he's been pretty much invisible, save for the occasions when he fouls somebody just to prove that he is, in fact, on the court.
9. Steve Novak. (Last week: 11) I mean, I guess. The Knicks are getting very little from their bench. Novak has at least provided the occasional corner three and enough furrowed brows to look like he gives a shit. That's enough to make you the ninth-ranked player on these bedraggled Knicks.
10.  Jerome Jordan. (Last week: 12) Jordan actually logged some minutes in the past week. Though he saw the court only in spurts and fouled his way off the floor when given more time to spin in Sacramento, the guy does appear to have some defensive skills and, a basic comprehension of where to stand on offense, and a funny beard. 
11. Renaldo Balkman. (Last week: 9) Balkman seems to have fallen out of the rotation, which is tough to do given the amount of open space in the Knicks' injury-ridden depth chart. Whatever. We'll always have those brilliant preseason performances against the Nets to reflect upon.
12. Jeremy Lin. (Last week: Just signed.) Lin's only seen garbage time minutes, and his play has fit right in. Any fantasies that Lin might be a useful point guard have been unceremoniously squelched.
Injured: Jared Jeffries, Iman Shumpert, and Baron Davis. Or, stated differently, a solid third of their healthy rotation.