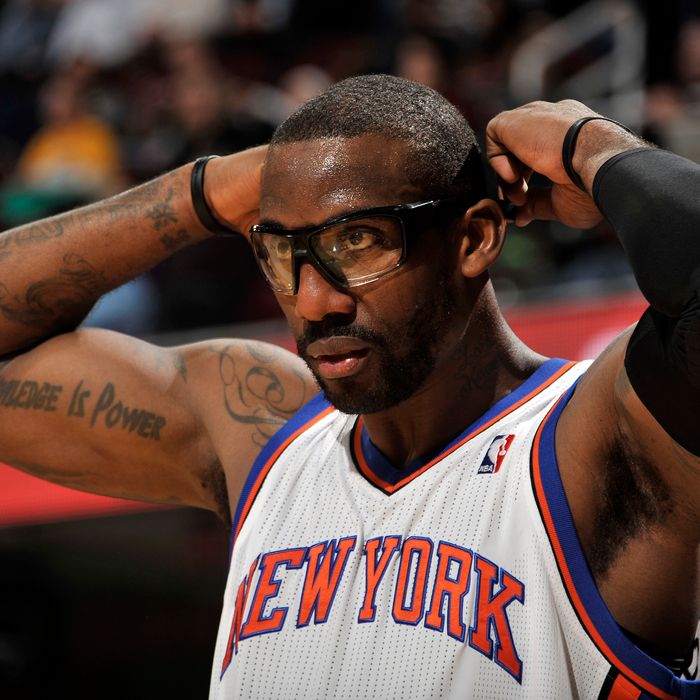 Coach Mike D'Antoni's rotation is an ever-evolving machine with parts that grow, shrink, disappear, and switch roles constantly. As part of our Knicks coverage all season, we'll be tracking each player every Tuesday. Come join us for the Knicks Power Rankings!
1. Tyson Chandler. (Last week: 1) After last week's dismal home stand, the Knicks hit the road in search of wins and came back with just one, over the middling, short-handed Bobcats. It was a fun win, though, and it was anchored by 30 minutes of violent interior domination by Chandler. Benefiting as usual from only the occasional entry pass, Chandler got his points by manhandling the relatively wimpy Tyrus Thomas and Byron Mullens on the boards. He ripped down eight offensive rebounds (17 total) and repeatedly dunked with the floor-cratering ferocity of a deeply frustrated man. Against more competent front lines thereafter, Chandler reverted to being awesome yet underfed, but for that one night, he conjured his own opportunities and was an absolute monster.
2. Amar'e Stoudemire. (Last week: 6) This week offered a bit of reassurance after Stoudemire all but disappeared in that Denver game the weekend before last. Perhaps because it was Carmelo Anthony's turn to disappear, Amar'e got more touches and more looks at the basket this past week and, more important, those looks were of a higher quality and success rate than we'd seen in weeks prior. Mike D'Antoni, for his part, experimented with new ways of getting Stoudemire the ball even without a pick-and-roll partner to reliably serve him; Zach Lowe expertly noticed Amar'e ducking into weak side post position a few times while Tyson Chandler rolled on the strong side. And Stoudemire's preferred weak side move — popping out to the elbow and canning a jumper — actually worked a few times as well. In the past two games, he shot 8–18 (44 percent) from 16 to 23 feet out, which isn't wonderful, but is a massive improvement over his 29 percent output in previous games. Overall, Amar'e's looked crisper, bouncier, and more involved (with the exception of that game in Miami where the Heat chose to triple-team Stoudemire and let the rest of the Knicks heave threes). It's odd to be so relieved to see this man dunking a basketball, but that's really how it felt this week.
3. Landry Fields. (Last week: 3) Aside from getting kicked in the face and sitting for a lot of the Rockets game on Saturday (one assumes those two events were related. When's the last time you got kicked in the face at work and just kept working?), Fields had another exceedingly Landry week. Last year's trade for Carmelo Anthony has long been seen as the point at which Fields's rookie year excellence tapered, but Landry's an intelligent chap, and he's finally figured out how to use Melo's gravitational pull to his own advantage. He's thriving anew by getting the ball later in possessions and using the alleys opened by good ball movement to attack, create, finish, and draw fouls.
4. Jared Jeffries. (Last week: 8) Jeffries is the team's best help defender outside of Chandler, he's been drawing charges and making small hustle plays like he's supposed to, and uh … he hit three of seven three-pointers over the past week. On percentage alone, Jeffries is — you might want to sit down before I tell you this — the Knicks' second most accurate three-point shooter this season behind Steve Novak (granted, on only eight attempts). Yes, the guy who practically shoots with his wrists, launches the ball on a diagonal trajectory, and occasionally manages to strike the inside of the rim from below with his shots has been one of New York's most accurate outside shooters.
5. Toney Douglas. (Last week: 9) Toney has done a better job of using his speed and maintaining his dribble to zoom into the paint for the occasional dump-off to a big man. He also continues to telegraph some of his passes and miss fairly hideous shots, but those rare spurts of point guard play are so, so valuable to these Knicks right now.
6. Iman Shumpert. (Last week: 4) Shump shot poorly and even failed to finish some really splendid drives to the rim this week. Knicks fans have lost count of the number of times he's missed out on two points because he attempted to dunk the ball too forcefully. He's due for a massive posterization of somebody sooner or later, though. Shump will eventually benefit from getting to play shooting guard, which is without question his more comfortable position right now.
7. Bill Walker. (Last week: 7) Walker keeps his spot this week mostly because half the guys who'd usually rank above him are injured, but also because of his wonderfully deranged shooting performance in Miami on Friday. Walker's preposterous 7–10 output from downtown included a banker from the top of the arc, and at least one attempt in which he didn't even appear to be looking at the rim. Even better, that otherworldly shooting was the difference between a massive blowout loss and a regular old ten-point loss to the Heat. So, just to recap, a guy who played uniformly awful basketball in three out of four games but heaved his team to a somewhat respectable loss in one of the games is the seventh-ranked player on the Knicks. Yup.
8. Steve Novak. (Last week: 11) Steve actually got to spin this week because Carmelo Anthony was injured, but didn't really rise to the occasion. After hitting all three of his three-pointers in garbage time against Charlotte, Novak shot just 3–10 in real minutes against the Heat and Rockets.
9. Mike Bibby. (Last week: 10) Mike Bibby was permitted to attempt eight three-pointers (and miss six of them) in that game against the Heat. Just to clarify, that was a professional basketball game. I can't believe I'm writing about Mike Bibby right now.
10. Jeremy Lin. (Last week: 13) In a fit of frustrated desperation (frusperation?), Coach D'Antoni let Lin play point guard for a large chunk of Saturday's second half in Houston. He didn't look very good at all, but managed to hit a few shots and toss six assists. Pretty much anybody with a functioning parietal lobe is welcome to play point guard for the Knicks at this point, so expect Lin to get more minutes and possibly shoot up the rankings next week.
11. Jerome Jordan. (Last week: 14) Jerome shot a perfect 3–3 from the field in garbage time minutes this week! He even did one awesome pump-fake move for a driving baseline dunk!
12. Renaldo Balkman. (Last week: 12) Humpty's highlight of the week came on Saturday, when he was running up the middle of the floor in transition and Jeremy Lin tossed him a slightly high lob pass. Instead of attempting to finish the difficult alley-oop, Balkman just stopped running and let the ball float out of bounds.
13. Andy Rautins. (Last week: unranked) I know he's not on the Knicks anymore, but I want to flesh out this list a little bit.
14. Garby Fitzmustard. (Last week: unranked) Yeah, just making people up now.
15. Bazowie Al-Shazam. (Last week: unranked) Sounds cool, right?
Played in two of the week's games, missed the other two, shouldn't have played in any of them: Carmelo Anthony
Injured: Baron Davis, Josh Harrellson