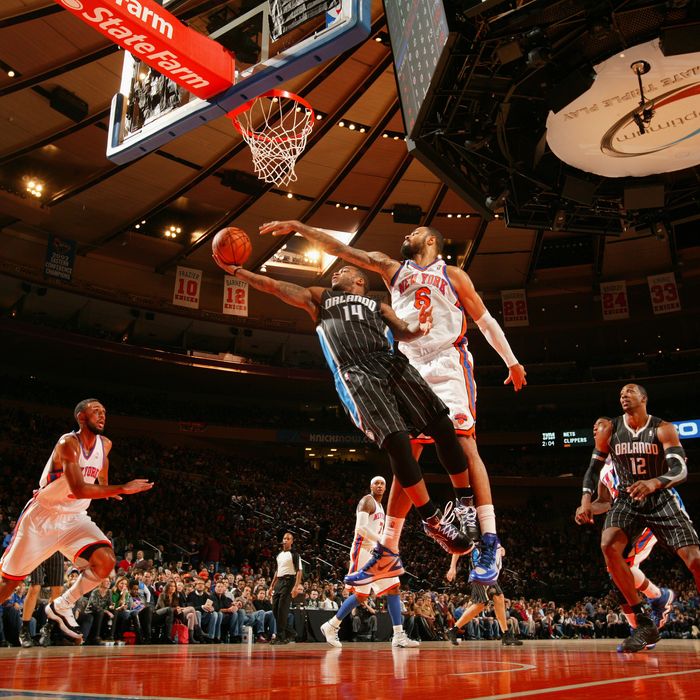 The Knicks dominated inside, but not outside.
First, a salute to Tyson Chandler. In the Knicks'$2 102–93 loss to the Orlando Magic today, Chandler demonstrated precisely why the Knicks felt he was worth the giant sack of cash (that is, in fact, how James Dolan conducts business) they granted him just over a month ago. Chandler went toe-to-toe with Dwight Howard, Orlando's towering man-steak of a center, and pretty much shut the guy down. When Howard moved, Chandler moved. When Howard pushed, Chandler pushed back. The Knick center both withstood and returned 30-odd minutes of battering with Howard, granting him only awkward shots and drawing the occasional charge to hold Howard to just eight points, ten rebounds, four assists, six turnovers, and a foul-out in 38 minutes. It was perhaps the first time in Howard's career that the Knicks have had a solid one-on-one match for him — recall Shawne Williams hanging on for dear life last season or Isiah Thomas's decision to start Jerome James against the Magic some years ago — and Chandler fulfilled defensive his duties with aplomb. Well done, Tyson.
If anything, the rest of the Knicks' chief downfall was that they failed to acknowledge Chander's inside majesty. They frequently offered help on Howard and switched to keep him covered in pick-and-roll situations. This, as always started the dreaded cascade of open perimeter players that, with snappy ball movement, the Magic could locate and feed for easy outside looks. In the first half, the Magic missed their outside opportunities, but they more than made up for that after the break. Ryan Anderson, J.J. Redick, and Hedo Turkoglu (Why are you giggling? What? It's … Monday. I don't see what the day has to do with any of this) combined to hit 14 of 26 three-pointers on the game, compensating for their inaccuracy in the first half with an absolute barrage in the third and fourth quarters. The Magic are one of the best three-point shooting teams in the league. If you leave 'em open, they're eventually going to get hot, and that they did, and that's pretty much why they won.
And if the Knicks had managed to win that one, it would have been with slightly better defense. That's the way they've achieved most of their wins thus far. New York's offense was headless and inconsistent as ever. Carmelo Anthony played through various sprained parts to lead the Knicks with 33 points, most of which came from the line because Anthony was ice cold from outside. Amar'e Stoudemire, meanwhile, continued to struggle, logging just 22 minutes because of silly, silly fouls that relegated him to the bench. The offense as a unit had its moments and presented better ball movement than we've seen, but typically ended in missed shots, particularly against a savvy zone defense deployed by Stan Van Gundy in the fourth quarter (expect to see more of that in the near future). Without Baron Davis healthy enough to run the point and without shooters hitting shots, the Knicks pretty much have to win by virtue of their defense, and that defense wasn't quite virtuous enough today.