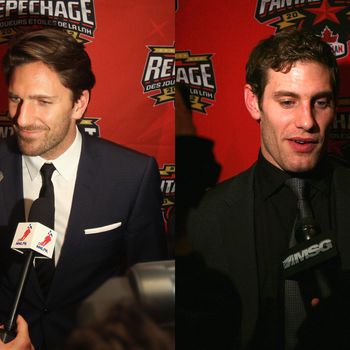 Henrik Lundqvist and Dan Girardi.
Last night, the NHL held its second All-Star Game Fantasy Draft, in which two captains — each assisted by an associate captain — select who will play on which team in Sunday's All-Star Game in Ottawa. We've liked the concept since it was introduced last season: The NHL All-Star Game, like pretty much any All-Star Game, had become a bit stale, and the idea of overhauling the format injected some life into it. And the draft itself provides opportunities for new story lines: Will the captains grab each other's teammates? Will siblings like the Sedin twins get split up? Sure, the draft order is kind of interesting — it leads to debates over things like whether Steven Stamkos should have been drafted higher — but the real reason to tune into an event like this is to see some good-natured gamesmanship. But last night, we didn't get much of it.
The team captained by Daniel Alfredsson took all of the Senators last night, even though team Zdeno Chara had plenty of opportunities to pick up Ottawa forward Milan Michalek. For that matter, Alfredsson and associate captain Henrik Lundqvist took all the available Swedes, including both of the Sedin twins. Meanwhile, the team captained by Chara took both available Bruins, plus both players from Slovakia. (At least Chara made things a bit interesting by forcing Boston teammate Tyler Seguin to sweat a bit before selecting him in the next-to-last round.)
In fact, the four players selecting the teams picked all of their own NHL-club teammates with one exception: Henrik Lundqvist said onstage that Marian Gaborik wanted to play against him, and he'll get his wish: He was taken in the sixteenth round by Chara, his teammate on the Slovakian national team.
As it turned out, most of the intrigue surrounded who would be the last player selected. Brendan Shanahan — who helped develop the idea for the draft — told us last year that the league had come up with a plan that would have grouped the last six players into two groups of three, so there wouldn't be a single man standing at the end. But he said the players didn't want to soften the blow of being the last pick. And that's exactly the right call: It's more fun this way. Then again, it's hard to feel too bad for this year's Mr. Irrelevant, Logan Couture. Like Phil Kessel before him, he went home with a car after being picked last.
Perhaps it's foolish to expect too much from an event associated with an All-Star Game, but something like this has plenty of potential.Wouldn't it have been great to see Chara take, say, Jason Spezza with his second pick? (That would have been worth it for the crowd reaction alone; one of the best things about last night's festivities was seeing poor Joffrey Lupul of the Leafs get booed every time he stepped to the mike.) Or to see Alfredsson retaliate by taking Tim Thomas?
The thing is, this all requires the captains involved to be a little mischievous, and throw a wrench in their opponents' plans. If they can rile up the crowd a bit, that's even better, since the stakes are so low. (After all, it's not like fans have to live with the consequences of this draft for more than a couple of days.) Last night, we didn't see much of that. Maybe next year?