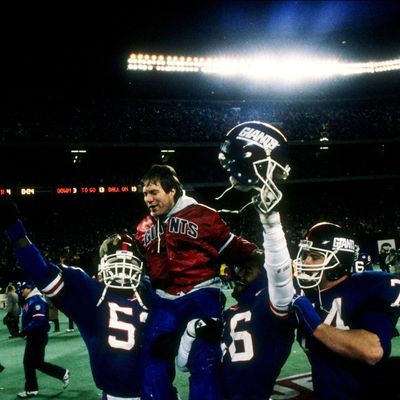 The Giants celebrate after winning their first NFC title game.
The Giants have been to the NFC Championship game four times, and each time they've earned a trip to the Super Bowl. They'll play their fifth on Sunday, and though San Francisco is favored to win (though not by much), this is a familiar position for the Giants organization: Via Neil Best, they've been the underdog in three of their four previous conference title games. Here, now, a look back at those games.
January 11, 1987: Giants 17, Redskins 0
The Giants punched the ticket to their first Super Bowl by capping a perfect season at home: After going undefeated at home during their 14-2 regular season, they won their two playoff games (both at the Meadowlands) by a combined score of 66-3. In front of 76,633 — at the time, the largest crowd ever to watch the team at Giants Stadium — Bill Parcells's team did all its scoring in the first half. On a day with constant wind gusts of 30 miles an hour, a 47-yard Raul Allegre field goal — "a bullet of a kick with the wind," according to the Times — opened the scoring. Phil Simms would throw just fourteen passes in this one, but one of them was a first-quarter 11-yard touchdown to Lionel Manuel. Joe Morris, who ran for 87 yards on the day, would finish off the scoring with a one-yard touchdown run in the second quarter. It was the Giants' third victory over Washington that season.
January 20, 1991: Giants 15, 49ers 13
The 49ers had won the previous two Super Bowls, but a last-second 42-yard field goal by Matt Bahr — his fifth of the day — ended their hopes of a three-peat. Joe Montana got beat up in this one: He suffered a broken bone in his right hand (among other injuries), and said afterward that he wouldn't have been able to play in the Super Bowl even if the 49ers had won. But they didn't, thanks to a wild finish at Candlestick Park (the same venue that will host Sunday's game): Lawrence Taylor recovered a Roger Craig fumble at the Giants'$2 43-yard line with a little more than two minutes remaining, and Jeff Hostetler — who'd been a career backup until Phil Simms got hurt four weeks earlier — brought the Giants to within field goal range, setting up Bahr's game-winner.
January 14, 2001: Giants 41, Vikings 0
This one was all sorts of fun: The Giants had a 34-0 lead at the half, and by the end of the game, had amassed 518 yards of total offense, compared to Minnesota's 114. To quote the late Wellington Mara after the game: "This team was referred to as the worst team ever to win the home-field advantage in the National Football League. And today, on our field of painted mud, we proved we're the worst team ever to win the NFC championship. In two weeks, we're going to try to become the worst team ever to win the Super Bowl." Alas, they wouldn't win the Super Bowl, but we'll always have this awesome Sports Illustrated cover. Humiliate really is the right word, isn't it?
January 20, 2008: Giants 23, Packers 20 (OT)
This one is still fresh in fans' memories, so the bullet points here are familiar: The sub-zero temperature, Tom Coughlin's face, Lawrence Tynes's missed field goal, Lawrence Tynes's other missed field goal, Brett Favre's critical interception the second play from scrimmage in overtime, and, ultimately, the 47-yard Tynes field goal that sent the Giants to Super Bowl XLII. But don't forget just how good Plaxico Burress was in this one: He had 11 receptions for 154 yards, two weeks before catching a Super Bowl–winning touchdown pass against the Patriots.