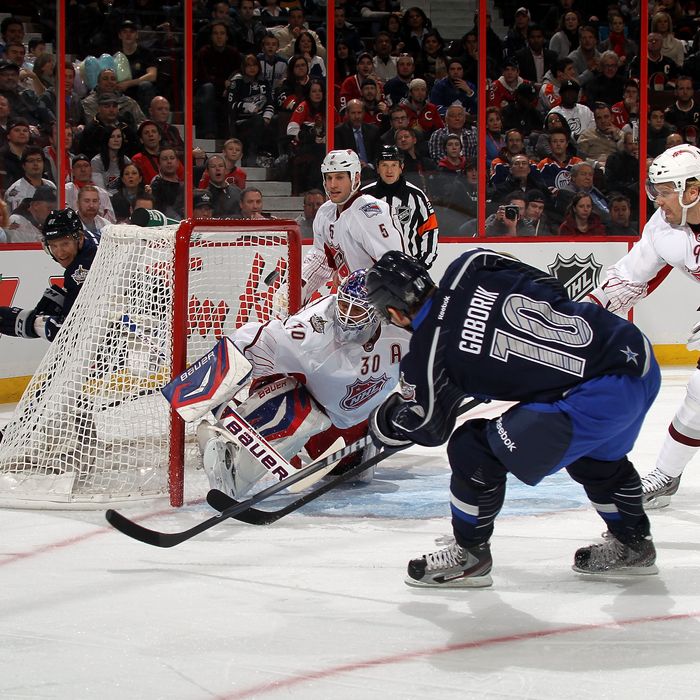 Marian Gaborik scores on Henrik Lundqvist in yesterday's All-Star Game.
Many of the most memorable moments from an NHL All-Star Weekend come before the game itself even begins. This year, we had the Ottawa crowd booing the bejesus out of Toronto's Joffrey Lupul during the Fantasy Draft, and Patrick Kane donning a superman cape during Saturday night's skills competition, and Zdeno Chara blasting a 108.8 mile per hour slap shot during Saturday's hardest-shot event. The game itself, of course, is essentially a series of odd-man rushes — a game in which goals are plentiful and defense is frowned upon. All the tic-tac-toe passing plays tend to blend together, and the crowd is primarily concerned with seeing its hometown stars score a goal or two. But give Marian Gaborik credit for finding his way onto highlight reels.
The Rangers winger scored three goals yesterday en route to MVP honors. Two of those goals came against his Rangers teammate Henrik Lundqvist, on a weekend in which the two did a fair amount of good-natured trash talking. But perhaps his most highlight-worthy moment came after his first goal on Lundqvist: In a celebration so perfect we can't believe we didn't see it coming, Gaborik broke out Artem Anisimov's gunfire celebration, aiming his stick right at Lundqvist. Team Chara won the game, 12–9, and Gaborik won bragging rights over his goaltender. Video of Gaborik's first goal is below; try to ignore the part when Pierre McGuire appears to think Pavel Datsyuk is Slovakian.
It was a good weekend in general for the Rangers who made the trip to Ottawa: Defensive defenseman Dan Girardi appeared to score in the first period, but had to settle for an assist when Jason Spezza was credited with the goal. Carl Hagelin, to the surprise of no one who's watched him play this season, won the fastest-skater competition on Saturday night. And John Tortorella — well, as he tells it, he didn't really have to do much this weekend, but at least he got in a good line when he joked that he'd be fining Gaborik for his celebration. Or at least, it was a good weekend for all the Rangers except Lundqvist, who helped draft the losing team, and after getting beat twice by Gaborik, will surely hear it from his teammates when he returns to practice today.