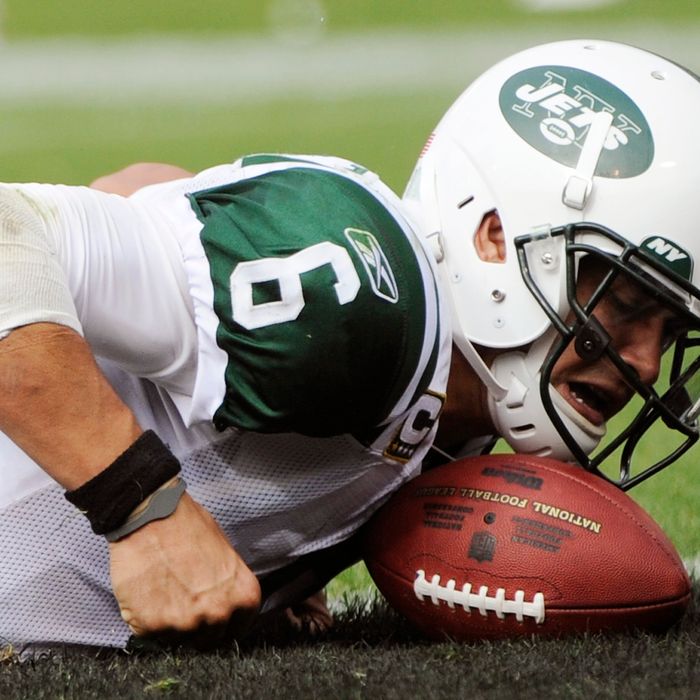 This was not a pass that was intercepted.
The New York Jets' playoff chances ended this afternoon with a gnarly eyesore of a 19-17 loss to the Miami Dolphins. Even if they'd won, the Tennessee Titans' win over the Houston Texans would have kept the Jets out of the playoffs. It has been a disastrous season for the team, the first of Rex Ryan's tumultuous and entertaining three years as coach in which the team will not make the playoffs. This offseason is going to bring many, many changes, the nature of which it's still too early to know. But you can be certain of one thing: Mark Sanchez is not going to be the unquestioned starting quarterback, the way he has been since he has entered the league. After today, you wonder if Jets fans will ever trust him again.
Sanchez was a disaster again in the fourth quarter — he has four turnovers in the quarter in the last two weeks — which, after all, is the one quarter when he was supposed to shine. (You know, because of the poise.) But Sanchez was dreadful all game, really; even when he made one good throw, it was surrounded with two or three misguided or simply dumb ones. Rookie quarterbacks are making the playoffs and breaking passing records; Carolina's Cam Newton threw for more yards this season than any Jet has in the team's history. (Seriously.) The Jets and their fans have been waiting around for Sanchez to become the quarterback they've been counting on him to be. It has been three years. It's probably time to stop waiting.
You know who's definitely tired of waiting? Santonio Holmes, who didn't catch a pass all game and was so furious with Sanchez that he sulked on a sideline bench, not watching the game, as the Jets attempted to come back late. As unacceptable as this is — and you can expect him to be justifiably destroyed for it in the tabs tomorrow — you certainly can understand where he might be coming from. Sanchez was terrible. Again.
The Jets have all sorts of issues they need to resolve, and missing the playoffs this year assures that the appropriate changes will be made. (We'd be shocked to see offensive coordinator Brian Schottenheimer still employed by the team in a week, or even a couple of days.) But the biggest change is likely to come at quarterback. Maybe the Jets will try to trade for Peyton Manning, now that the Colts are assured of the No. 1 pick and the option of taking Andrew Luck. (This is hard to take too seriously, though.) Maybe they'll draft Robert Griffin III or Landry Jones. Maybe they'll grab another team's castoff just to provide some competition. But Sanchez's free ride is over. The Jets had problems other than Mark Sanchez this year, but he was their biggest one, particularly late in the season. They can no longer deny it, no matter how great everyone wants Sanchez to be. You won't be seeing him on any GQ covers next September. You won't be seeing him in Nextel commercials. And you're unlikely to see him atop the Jets depth chart. You might even be unlikely to see him in a Jets uniform.
This is all drastic, but the Jets' season is over. It's the job of a humbled Rex Ryan to make sure it doesn't end this early next year, lest he be the next person Jets fans can no longer defend.