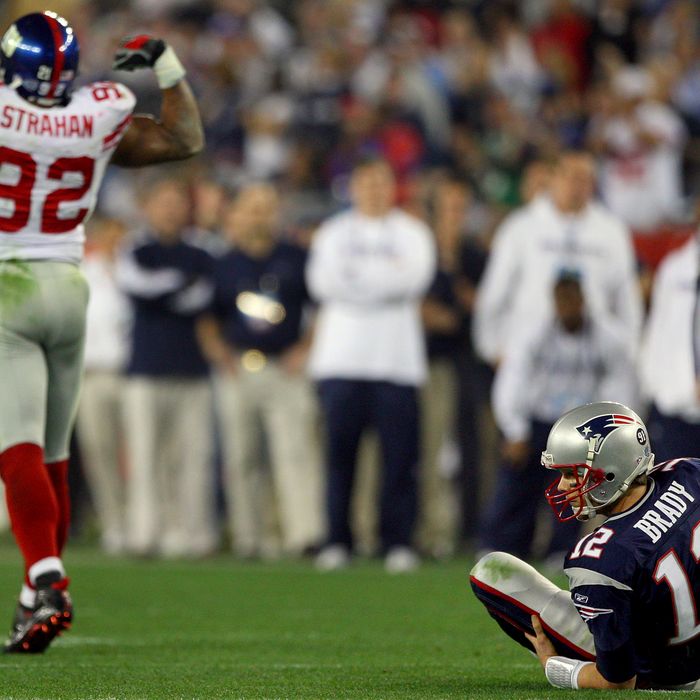 You may have heard that there's a bit of a sports rivalry between the cities of New York and Boston. And when the Giants and Patriots meet on February 5, it'll be the seventh time that teams representing those cities will play for a championship. (Yes, we are aware that the Patriots don't actually play in Boston. For that matter, we're aware the Giants don't actually play in New York. But they're both generally associated with those cities.) Here, now, a look at the previous times New York and Boston played for a title in one of the four major sports leagues.
1912 World Series: Boston Red Sox Over New York Giants
This series came down to a winner-take-all Game 8. (Yes, Game 8; Game 2 was stopped with the score tied on account of darkness.) In that deciding game, the Giants took a one-run lead in the tenth inning, and had the great Christy Mathewson (who'd started the game) on the mound to close out the series. But to lead off the bottom of the tenth, Boston pinch-hitter Clyde Engle, according to MLB.com, "lifted a lazy fly to center fielder Fred Snodgrass … who dropped the ball, allowing Engle to reach second base." Then after a fly out, a walk, a Tris Speaker game-tying single, and an intentional walk, Larry Gardner would hit a sac fly, plating the World Series–winning run. If this series of events happened today, it would break Twitter.
1916 World Series: Boston Red Sox Over Brooklyn Robins
Babe Ruth made his World Series pitching debut in Game 2, pitching all fourteen innings (!) in a 2-1 Boston win. The Red Sox eventually clinched the series at home in Game 5, but they didn't do it at Fenway Park: They played their home games in this series at Braves Field, because it featured a larger seating capacity.
1929 Stanley Cup Finals: Boston Bruins Over New York Rangers
This entire series — the first time two American teams competed for the Stanley Cup — lasted just two days. The Bruins defeated the defending champion Rangers on consecutive nights in the best-of-three series to capture their first Stanley Cup. Rookie Bruins goalie Cecil "Tiny" Thompson allowed just one Rangers goal in the series.
1972 Stanley Cup Finals: Boston Bruins Over New York Rangers
Bobby Orr scored four goals and added four assists in the series en route to his second Conn Smythe Award, and the Bruins won the series in six games. (Worth noting: The Rangers and Bruins can't currently play in the Finals, but if four-conference NHL realignment ever happens, and if the semifinal round isn't based on geography, it's possible that could change in the coming years.) At this point, no New York team had ever beaten a Boston team to win a title. Until …
1986 World Series: New York Mets Over Boston Red Sox
"Little roller up along first. Behind the bag! It gets through Buckner! Here comes Knight, and the Mets win it!"
Super Bowl XLII: New York Giants Over New England Patriots
Tom Brady says he still can't watch highlights from the game. Robert Kraft says he hasn't been able to rewatch the game either. Readers of ESPN Boston voted to keep a highlight package from the game from being posted to the site. But, just like the Times, which called our attention to that reader poll, we are under no obligation to keep such footage from readers. So here's the Giants' game-winning drive* from that game. Enjoy.
* This post has been corrected. The video is of the Giants' game-winning drive. On the Giants' final possession of the game, Eli Manning took a knee.