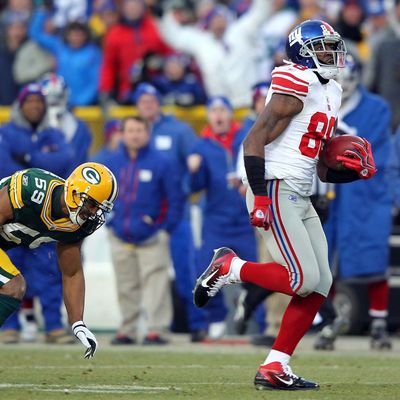 Eli Manning has a Super Bowl ring, but his receivers have considerably less playoff experience: Until last week, none of his three main wide receivers had caught a postseason pass. But through two games, the Giants' passing game has been terrific, and while it was Victor Cruz who'd been getting the most buzz entering these playoffs, it's Hakeem Nicks who's stood out, thanks to big play after big play.
In each of the last two games, Nicks led the Giants in receiving yards — he had 115 against Atlanta and 165 yesterday against Green Bay — and he's caught a pair of touchdown passes in each of the last two contests, as well. One of those was a four-yard pass from Manning to give the Giants a 7-2 lead last week, but the other three were of the spectacular variety: The 72-yard score last week in which he caught an open pass inside his own 35, then ran untouched through a pack of Atlanta defenders; his 66-yard touchdown yesterday in which he bounced off Green Bay safety Charlie Peprah then outran Peprah's teammates; and, of course, the Hail Mary pass he snagged at the end of the first half that allowed the Giants to take a ten-point lead into the locker room.
Nicks's electric postseason reminds us of one of the strengths of this Giants offense: Manning doesn't have to rely on the same weapon every week when injuries aren't a factor. And so while Manning-to-Cruz (rightfully) got plenty of attention toward the end of the season, Manning has other targets he trusts as well, including Nicks, Mario Manningham (who's healthy again and has a touchdown in both postseason games so far), and Jake Ballard (who's receiving abilities were perhaps the most pleasant surprise of the season). And if the Giants can run the ball effectively, it makes the offense all the more dangerous. (Underrated play yesterday: Ahmad Bradshaw not only gaining 23 yards on the next-to-last play of the first half, but running across half the field to get out of bounds, setting up the last-second heave that Nicks hauled in for a touchdown.)
The Giants needed to exploit Green Bay's biggest weakness yesterday, and they did just that. And while Manning deserves the credit he's getting today, the guys he's throwing the ball to — Nicks especially — are deserving of praise as well.