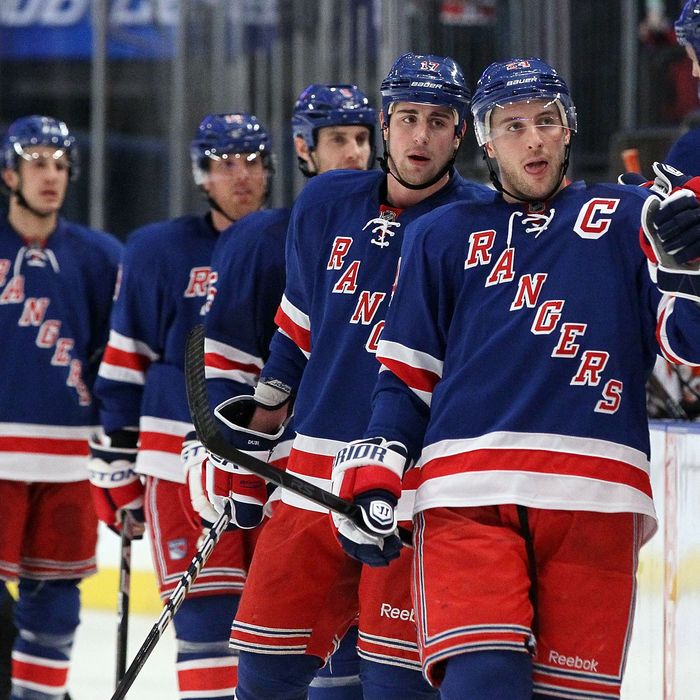 The Rangers celebrate a goal last month.
This has been an unconventional season for the Rangers thus far: First came a trip to Europe for some exhibition games and their first two regular-season contests. Then, thanks to the renovations to Madison Square Garden, there was an extended North America road trip that meant they didn't play their home opener until October 27. And then, after a relatively normal November, they spent much of December being followed by an HBO camera crew before playing a hockey game in a baseball stadium on Monday.
But all of that's over now, so while they won't hit the halfway point of their season until next week, this feels like a more natural break, and a chance to look back at the first not-quite-half of the season. And all things considered, things have been going pretty darn well. We'd hoped this team would progress this year to the point where they'd get a decent playoff seed and not have to fight for their lives in the final week to secure a spot in the postseason. And who knows, perhaps that's where they'll wind up come April. But so far, they've been better than that. As of this afternoon, they have 52 points, most in the Eastern Conference.
Before the season began, we talked about keeping expectations for this team in check. And we must now remind ourselves that it's only January 4. But as this team piles up points, it's getting harder and harder to believe this team really isn't exceeding our expectations, as opposed to setting us up for disappointment later in the the season and in the playoffs. They're an impressive 9-3 against the teams currently in the Eastern Conference playoff picture (though they haven't yet played Boston), and since the first week of the season, they haven't lost more than two games in a row. Meanwhile, they've had a seven-game winning streak, plus two separate five-game winning streaks. Which isn't to say they've been steamrolling opponents every night — they've certainly won games without playing 60 minutes of inspired hockey — but it's not lost on us that things must be going pretty well when you can spend time worrying about a team's performance in a victory.
What we've seen so far is a plan coming together: Younger players (like Derek Stepan, Ryan McDonagh, and Michael Del Zotto) have taken steps forward this year, the wave of homegrown players that came before them (like Ryan Callahan and Dan Girardi) have continued to produce while taking on bigger leadership roles, and the big-money types (like Henrik Lundqvist and Marian Gaborik) have mostly been at the top of their games. It's enough to outweigh some concerns, like an underachieving Brandon Dubinsky or some injuries on the blue line.
Speaking of which: They'd done virtually all of this without Marc Staal, their best defenseman, who didn't make his season debut until Monday's Winter Classic. The announcement that he'd play in such a game was something of a surprise, and it'll be a while before we're no longer a little nervous when he takes a hit. But we'll take the medical staff's word that Staal was ready to play, and that they wouldn't rush him back simply so he could take part in the outdoor game. In any case, Staal isn't quite himself yet — that's to be expected from someone who missed training camp and three months of the season — but the thought of adding an All-Star defenseman to a team that's already been playing so well should give Rangers fans another reason to be, dare we say, optimistic for the season's second half. Rangers fans aren't entirely used to this sort of thing, and we've been burned before, so perhaps we'll just say this: So far, so good.