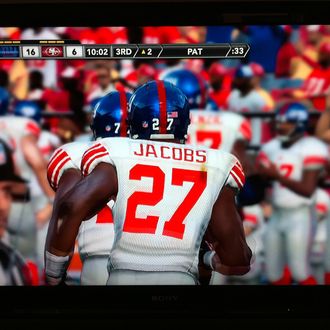 They were once ahead, anyway.
Heading into the fourth quarter of the simulation of Sunday's NFC Championship Game using Madden 12 on our PlayStation 3, everything was going swimmingly for the Giants. The defense had dominated, Brandon Jacobs had scored two touchdowns, and the crowd was silent as they watched Big Blue amass a 20-6 lead. To the Super Bowl, gents! And then everything burst into bits. Alex Smith drove the 49ers down the field for a touchdown, and then Eli Manning — who had played splendidly up until then — threw two consecutive interceptions. The first led to a Vernon Davis touchdown, and the second was taken home for a Pick Six by linebacker Ahmad Brooks, giving San Francisco a 27-20 lead as the Candlestick Park crowd went nuts. Two plays later, Patrick Willis sacked Manning in the endzone, and that was pretty much it: San Francisco 29, New York 20. That's a rough fourth quarter. The 49ers advance to play the Patriots in the Super Bowl. [cries] After the jump, the pump-you-up pregame video, along with even a few minutes of gameplay.
This features a nice run by Ahmad Bradshaw and a fun cameo at the end, if you actually make it all the way through it.