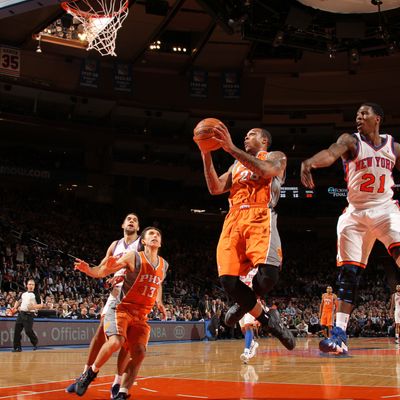 Not a lot of defenders standing in his way there.
In a very smart piece on ESPN Insider yesterday (subscription required), Basketball Prospectus's Bradford Doolittle ran down precisely what was going wrong with the Knicks so far this year. In short: 1) They can't shoot threes. 2) Amar'e Stoudemire is playing terribly. 3) They don't have anyone to run the pick-and-roll. 4) There's no point guard. 5) A butterfly flapped its wings in Egypt thirteen years ago and forever changed the future. None of this is necessarily news to Knicks fans — though Doolittle writes it all quite nicely! — but what was most alarming was that there is no real solution. Under "prognosis," Doolittle writes: "There may not be a cure for this group." Um. That's a little terrifying, because if that means more nights like last night, it's going to be awfully difficult to keep watching the Knicks all season.
The Knicks lost in brutal, hideous fashion last night, 91-88 to the Phoenix Suns, a team that had lost five in a row coming in. It was only the Suns' second road win of the year, and it had the added brutality of forcing us all to look at Steve Nash run circles around the Knicks and wonder just how different matters would be if he were on our side. But the defense, as has bizarrely been the case for a while now, wasn't the problem last night. The Knicks' offense is quite shockingly awful, folks. Take those five Doolittle points up top, and add "Carmelo Anthony shoots 5-for-22 from the field," and honestly, it's a surprise the Knicks only lost by three. To one of the worst teams in the NBA. Grim times, people.
You can actually take last night as a positive, if you are squinting and also have just banged your head against something. Landry Fields played his best game of the year, Tyson Chandler is playing defense the way he was supposed to play defense and Iman Shumpert, rather impossibly, drained some huge shot in the fourth quarter to keep the Knicks alive. The supporting cast did its part last night, but the superstars were lousy; Anthony and Stoudemire were a combined 10-for-44. Much was made on the broadcast about how the Knicks were shooting 39 percent from the floor, but that's in large part because those two were taking most of their shots. The offense is bad enough as is. With those two "superstars" shooting like that, expecting the offence to be much of anything is lunacy.

It's not like the Suns did much to impress, pulling together a disjointed season for one game of brilliance. Over at Posting and Toasting, they said this game was like "watching the Washington Generals play the Washington Generals," but that's not quite right: It was more like watching two junior-high junior-varsity teams in a rec league gym, except a couple of the kids can inexplicably dunk. (They nevertheless chose not to and mostly just chucked up 3-pointers.) It was, all told, just a lousy NBA game between a couple of lousy NBA teams. Gulp.
The Knicks have now lost four in a row and are 6-8 for the season. They are 0-2 on their mini home-stand, with a game against lowly Milwaukee on Friday and a potential embarrassment Saturday against Denver, with Danilo Gallinari and Timofey Mozgov waving to their old mates. (Well, their old jerseys, anyway.) The season is now 21 percent of the way over. This is no joke. This is getting scary.