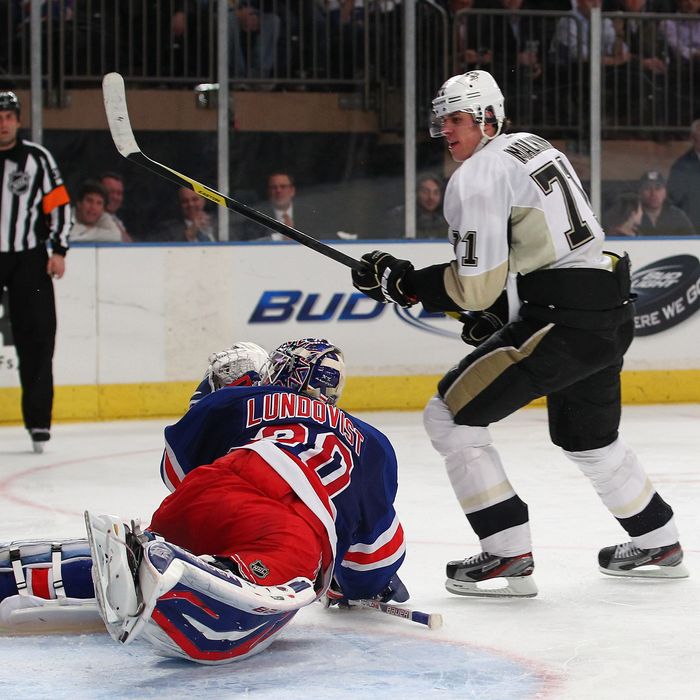 Evgeni Malkin scores on Henrik Lundqvist last night.
The Rangers lost 4-1 to the Penguins at the Garden last night, and though they still lead the Eastern Conference in points, they've hit a bit of a slump: Over the past six games, they've alternated wins and losses. That's not exactly a disastrous stretch — it's included shutout wins over Toronto and Nashville, after all — but still, this maybe isn't the best week to suggest that they're "pretty close" to winning a Stanley Cup, as a certain owner did earlier this week.
Anyway, tomorrow the Rangers roll into Boston for a much-anticipated matchup with the defending champion Bruins. Even as they sit atop the conference standings, we've been hesitant to call the Rangers the best team in the East, because right now, we still think Boston is the team to beat. Not only does their goaltending match up with the Rangers', but they lead the NHL in goals scored. (Their goal differential of +71 is best in the league by some margin.) At this point, the Rangers have played pretty well against the better teams in the conference, but they still have all four games against Boston remaining. Tomorrow, finally, we'll get our first look at how the Rangers stack up against the Bruins head-to-head.
You'll recall that the last time the Rangers played the Bruins, New York rallied back to win one of their most exciting games of last season. (That was also the game in which Ryan Callahan broke his ankle blocking a Zdeno Chara slapper, ending his season.) Since then, the Bruins have won a Stanley Cup, and the Rangers have been putting together the kind of the season their fans have been waiting a long time for. And so there's no shortage of story lines for tomorrow afternoon's game. The Rangers have two games left before the All-Star break, and they no doubt want to finish strong. But for those of us trying to gauge exactly how good this Rangers team is, tomorrow's game especially has been circled for some time now.