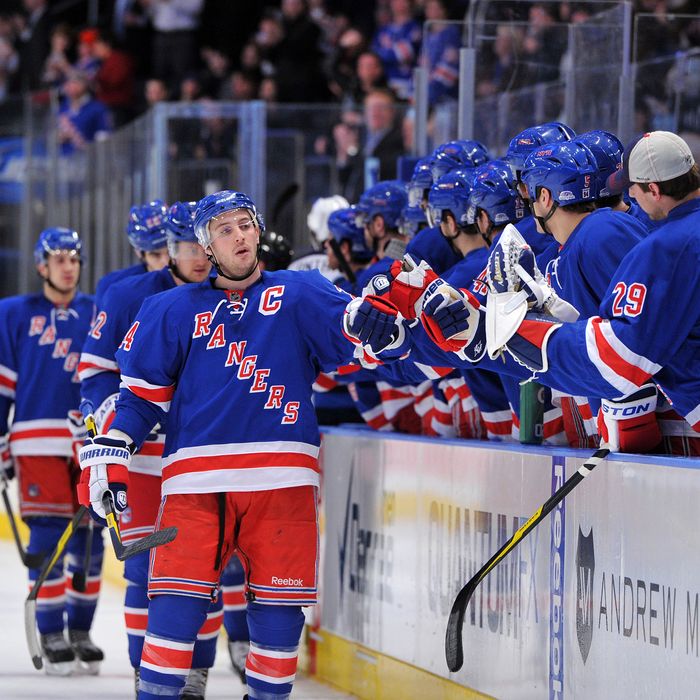 Ryan Callahan celebrates a goal last night.
Last night's Rangers win was a sort of ho-hum affair, and we say that in the most complimentary way possible: After an early goal, the game never really felt in doubt, and as the final minutes ticked off, the only real drama involved whether Henrik Lundqvist would secure his fifth shutout. (He would, in a 3-0 victory.) The Rangers defended well last night, got stellar goaltending from Lundqvist when necessary, and didn't show any signs of a letdown after a big win over Boston last weekend. It was a game where everything sort of worked out, in a season in which most everything has sort of worked out.
The win, coupled with Boston's loss to Washington last night, means the Rangers enter the All-Star break alone atop the Eastern Conference standings. (Via Newsday, they haven't been in first place this late in the season since 1995-96.) This Rangers team doesn't overwhelm opponents with pure talent, particularly on the offensive end. But that's not the type of game they try to play: They're more than happy to grind out wins, even if it doesn't always make for the prettiest highlights. (Which isn't to say there isn't skill at work here: See Michael Del Zotto's rush up the ice to set up the Rangers' second goal, or Ryan Callahan's takeaway and subsequent drag of the puck before feeding Brad Richards for the third.)
Last week, Rob Vollman of Hockey Prospectus identified (subscription required) the Rangers as a team that could see a fall-off in the second half of the season, in part because of concerns about whether guys like Lundqvist and Marian Gaborik can sustain the type of numbers they've put up so far. And we'd add a few other worries: The stale power play that doesn't seem to be getting any better, the huge minutes being logged by Dan Girardi and Ryan McDonagh, and if they'd be able to survive an injury to one of their key point-producers. (Perhaps that last one is a function of being trained to expect the worst, but we saw it happen as recently as last year, when both Gaborik and Callahan — currently their top two scorers — missed time.)
But this team has progressed to the point where we now expect them to win games, not just against the likes of Winnipeg, but against the conference's stronger teams as well. The Rangers aren't necessarily red-hot right now — before last night's victory, they'd alternated wins and losses for seven games — but they've been consistent to the point where a stretch like that constitutes a slump. They're off until Tuesday, and who knows, maybe they really will cool off after the All-Star break. But you know what? Maybe they won't.