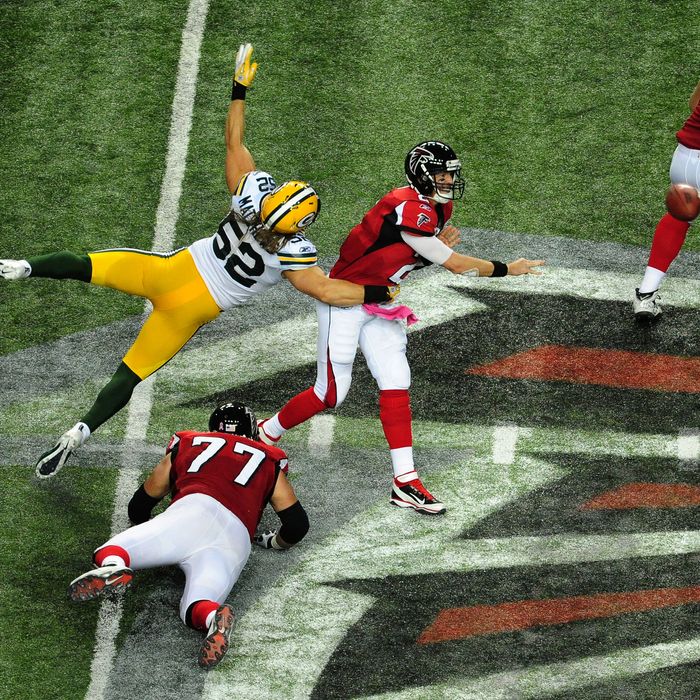 Clay Matthews and Matt Ryan, earlier this season.
Falcons quarterback Matt Ryan has played in two postseason games at this point in his four-year NFL career, and neither one has gone particularly well. In 2009, he passed for 199 yards in a loss to Arizona, throwing two touchdowns but also two interceptions. He also lost a fumble. Then last year, after a 13-3 regular season, his Falcons got smoked by Green Bay, 48-21, in a game in which Ryan passed for 186 yards, and threw one touchdown and two picks. He lost a fumble in that one, too.
We'd tend to agree with Shutdown Corner's MJD, who wrote after that loss to the Packers that it's not necessarily fair to label Ryan a playoff choke artist after just two games — especially since both were against teams that would go on to represent the NFC in the Super Bowl. Ryan's been very good in the regular season to this point in his career, and two playoff games isn't much of a sample. Worth remembering: Eli Manning didn't win a postseason game until his third playoff appearance, which came in his fourth season in the pros. (He went on to win three more playoff games that same season. Perhaps you remember?)
Ryan, of course, will play in postseason game No. 3 on Sunday, against the Giants at MetLife Stadium. The Giants haven't seen Ryan since November of 2009 — they beat the Falcons in overtime in that one — and that means Tom Coughlin's club will be studying lots of tape this week. As the Post points out, Ryan doesn't get sacked very often — it helps that Atlanta's running game allows them to effectively use play-action — but in his two playoff games, he was under plenty of pressure: The Cardinals sacked him three times back in 2009, while the Packers sacked him five times last year.
Look, eventually, Ryan will notch a postseason victory. He's too good not to, and this isn't like the "never won a Super Bowl" label: It's not that hard to shake it, eventually. But no need for him to do it this weekend, right?