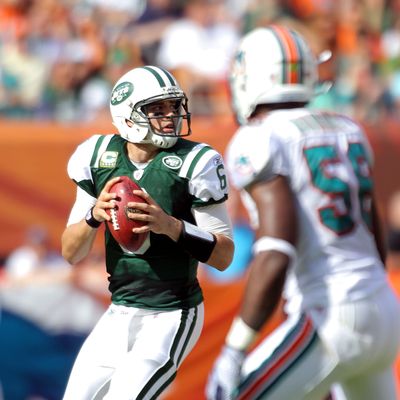 The Jets have made changes to their offensive coaching staff, but as Will wrote yesterday, we'll know the Jets are truly serious about cleaning house if they also make a move at quarterback. And the chatter about Mark Sanchez's abilities — as well as about the possibility of bringing in, say, Peyton Manning — is no longer just the stuff of media speculation and barroom debates. Even some of Sanchez's teammates have some concerns about him, it seems.
Here's one unnamed player, speaking with the Daily News, about Sanchez:
"We have to bring in another quarterback that will make him work at practice," said one player. "He's lazy and content because he knows he's not going to be benched."
Another unnamed teammate, meanwhile, was asked if the Jets could win a Super Bowl with Sanchez as quarterback:
"How can we when he's not improving at all?" one of Sanchez's teammates said. "He thinks he is, but he's not. He has shown us what he's capable of."
And here's one more quote, from an "well-respected" unnamed player, who was asked about whether the Jets should pursue Manning if he's medically cleared to play:
"We already have his coach — Tom Moore," one well-respected player said. "Plus, he's a field general and will get everyone lined up. He will get his playmakers the ball. We can win a Super Bowl with Peyton."
Some of these things are hard to argue with — Sanchez isn't progressing the way the team had hoped — while others, like the part about him being lazy, are already being disputed by other teammates (more on that in a moment). It's one thing to hear these sorts of things on sports talk radio, where disgruntled fans can sound off on disappointing players and suggest dream trade proposals. It's another to hear them coming from the Jets locker room.
As we said, some of Sanchez's teammates came to his defense after the Daily News story was published. Nick Mangold disputed the notion that Sanchez was lazy, and said that the quarterback had the support of the majority of the locker room. Matt Slauson and Marcus Dixon defended Sanchez as well — and like Mangold, both defended the quarterback's work ethic, among other things. But Manish Mehta's News article says that "The consensus among players who spoke to the Daily News was that, at the very least, the Jets must sign a legitimate veteran backup to push their young quarterback." The culture of the Jets locker room has been a topic of discussion all off-season, and none of this makes it look any more functional. But perhaps the real takeaway here is this: Sanchez's teammates know as well as Jets fans do that something needs to change beyond the coaching staff. The big question, of course, is whether that means lighting a fire under Sanchez (or turning his game around some other way), or making an even more drastic move.