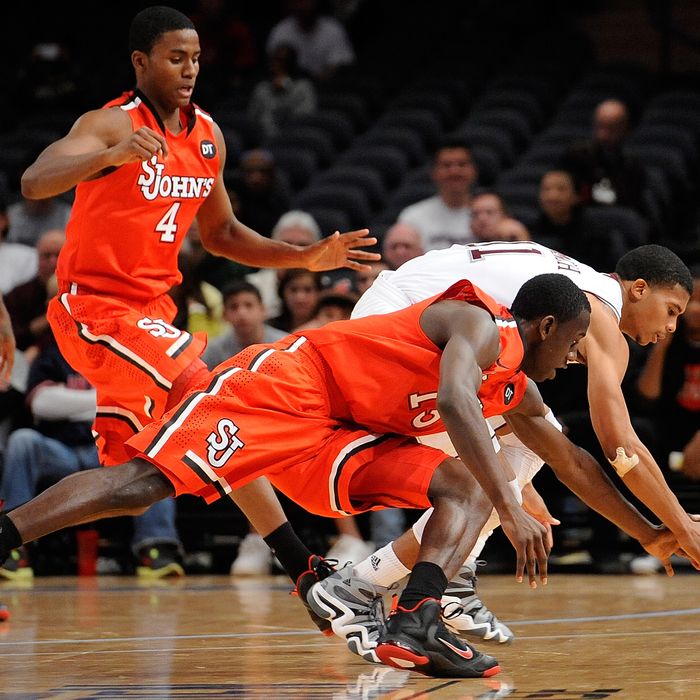 Jamal Branch, then with Texas A&M, goes for a loose ball against St. John's earlier this season.
October of 2010 was an exciting time to be a St. John's fan. Under recently named head coach Steve Lavin, the Red Storm were in the midst of building what ESPNU deemed the third-best recruiting class in the nation, and had already scored a top recruit for their 2012 class – Jevon Thomas, a six-foot guard – from their own backyard. Meanwhile, St. John's was several players deep at nearly every position, and with the addition of Thomas, had perhaps overrecruited their backcourt (Nurideen Lindsey, D'Angelo Harrison, Thomas, and returning Malik Stith).
Fast-forward to the beginning of 2012, and the future of the Red Storm's backcourt appeared bleak. Thomas, whose recruiting ranking shot up the charts after his play on the summer circuit, decommitted from the Red Storm. (He eventually committed to Dayton). After nine games, Lindsey transferred, and most recently, Darrick Wood, a 6-foot-3 guard recruited to fill Thomas's spot in the 2012 class, decided he would also decommit. Because of all these personnel moves, it was pivotal that the Red Storm land Jamal Branch, a Texas A&M guard who announced last month he intended to transfer from College Station. And now they have.
Branch, a former ESPNU Top 100 recruit, was courted by St. John's, Marquette, Maryland, and Arizona (among others) before accepting St. John's scholarship offer. Branch has three more years of eligibility remaining and will be able to take the court next December. Why did Branch choose the Red Storm? Because of his prior relationship with freshman D'Angelo Harrison. According to Scout's Evan Daniels (subscription required), Branch and Harrison both attended the NBA Top 100 camp and have spent a considerable amount of time together working out. When Branch visited the Queens campus this past weekend, the two players hung out together and Harrison was able to pitch the school.
However, there's likely another reason Branch chose St. John's: major playing time. There won't be much roster turnover after this season, so that means only seven bodies for the 2012-13 campaign. Lavin and company will use Branch in the backcourt with Harrison and Phil Greene, and with the extra minutes, Branch could be one of St. John's most efficient offensive contributors. According to the tempo-free-stat genius Ken Pomeroy, Branch only used 36 percent (subscription required) of Texas A&M's minutes in his eleven games. Even with the small sample size, he appeared to be a better offensive option than starter Dash Harris, using a larger share of the offense's shots taken (16.9 percent vs. 15.1) and connecting on more of those attempts (a two-point field-goal percent of 43 percent).