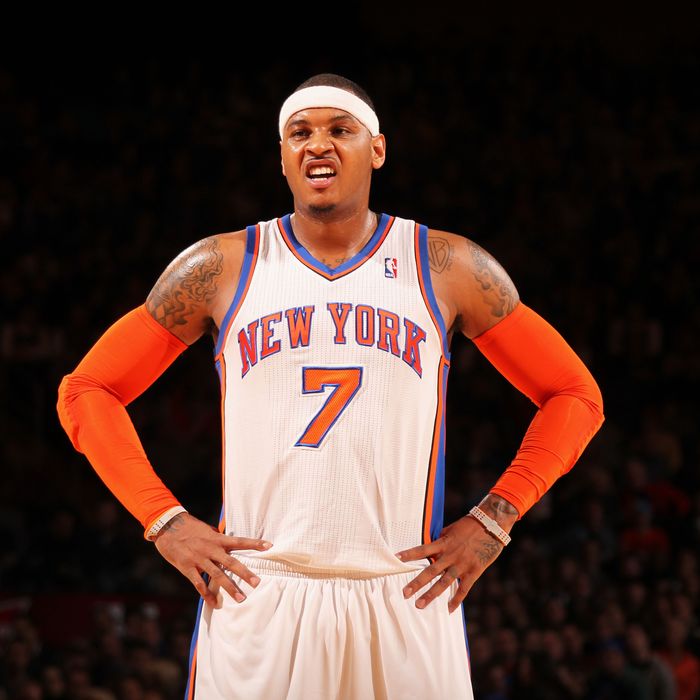 That is not a happy face.
Look, the Knicks are a work-in-progress. They're riddled with injuries, with two starters and two key rotation guys (Amar'e Stoudemire, Baron Davis, Iman Shumpert, and Jared Jeffries) out. They're travel-weary, playing a compressed schedule right after the first (and lone) West Coast trip of the year. Tyson Chandler himself has said it'll be "20 games" until we have much idea of what kind of Knicks team we have. The lockout made everybody awfully sloppy. But still, but still, but still: You can't lose at home to the Toronto Raptors. You just can't.
That's precisely what happened last night, though, and now the Knicks' first home game, that giddy win over Boston on Christmas Day, feels like a lifetime ago. They lost 90-85 to the Raptors. The freaking Raptors.
The game was essentially lost in the second quarter, in which the Knicks were outscored 29-11, thanks to an almost pathological insistence on taking three-pointers, and missing them. The Knicks took 39 shots in the first half, 19 of which were three-pointers, of which only five were made. Also, for a good stretch of the second quarter, the lineup was:
Toney Douglas
Bill Walker
Mike Bibby
Steve Novak
Jerome Jordan
Dream team! The Knicks did everything they could in the second half to crawl back, thanks to a barrage of treys by Douglas in the third quarter and a Carmelo Anthony explosion in the fourth quarter … but the Raptors — who, we remind you, are terrible — hit enough big shots at the right times to hold them off. On the last big play of the game, with the Knicks needing a three to tie … they forgot what play to run.
"We forgot the play," D'Antoni said. "It's a learning experience. We didn't run the play right. [But] it shouldn't have come down to that."
The "play" ended up being Anthony chucking a three-pointer, which was a fitting way to lose, really. Anthony did everything he could, but there just wasn't enough offense to help him out. The Knicks beat the Kings on New Year's Eve by moving the ball around. Last night, they were either too unwilling or too exhausted to do that. Instead, your supporting cast of Josh Harrellson, Mike Bibby, Steve Novak, Landry Fields and Bill Walker were a combined 2-for-15 from long range. Not so good.
Now, the Knicks are obviously still trying to figure all this out, and it will help when Stoudemire and Shumpert return, perhaps as early as this week, perhaps even as early as Wednesday's game against Charlotte. Maybe at some point this year we'll all have a good chuckle about that weird time when the Knicks lost at Toronto. At home, ho ho! But now, the Knicks are 2-3 and reeling during the easiest stretch of games they'll have all season (this was the first of five straight against teams with losing records last year). These are the games you have to win, games that aren't going to just sit around and wait for the Knicks to figure it out. There's no reason to panic yet. There's lots of season left to get it right. Which is good. Because the Knicks, the way they looked last night, will need all the time they can get.