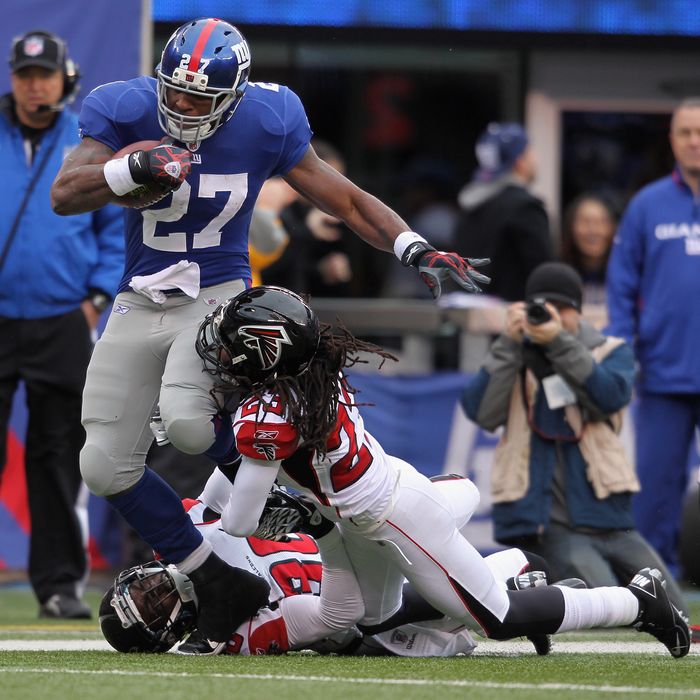 Yesterday's playoff opener went about as well as the Giants could have dreamed, from Eli Manning's stellar passing day to the defense's critical fourth-down stops. The Giants' running game, however, might have been the day's most pleasant surprise: The Giants' finished last in the NFL in rushing this year, but yesterday had the far more effective ground attack. (They ran for 172 yards on the afternoon; Atlanta ran for just 64. Michael Turner was held to just 41 yards on 15 carries.) And so today, give credit to Brandon Jacobs, who turned back the clock in what might have been his last home game as a Giant.
This hasn't been Jacobs's finest season: He ran for just 571 yards (his lowest total since 2006, when Tiki Barber was still in town), and hinted that he wasn't pleased with his playing time. When he did make headlines, it was often for something other than his on-field performance: You'll recall the time he said that critics of the Giants could "go back and finish their miserable lives," or the time he blamed fans for making things harder on the team by booing, or the time he exchanged words with Rex Ryan following the Giants' win over the Jets.
Jacobs showed some flashes of his former self towards the end of the season: He rushed for over 100 yards and two touchdowns against Dallas on December 11, and the win over the Jets on Christmas Eve included a regular-season-best 28-yard run for Jacobs. Still, it's hard to forget a game like the one against the Eagles on November 20, when Ahmad Bradshaw was still injured and Jacobs averaged just 1.8 yards per carry, leading to those aforementioned boos.
Jacobs said back in October that he didn't see himself with the Giants next season, and if that's the case, yesterday would have been his final home game with the only club he's every played for. (Because of the way his contract was restructured before this season, the Giants will have to make a decision about whether or not to bring Jacobs back fairly early in the off-season.) And if Jacobs does play elsewhere next year, Giants fans got to see the Jacobs of old yesterday — the one who uses his big frame to his advantage and drags defenders behind him as he picks up extra yards. In all, Jacobs ran for 92 yards and averaged 6.6 yards per carry. His longest run of the day was his longest of the year: A 34-yard run in the second quarter that brought the Giants into the red zone and set up their first touchdown of the day. We haven't seen nearly enough of that Jacobs this year.
The win over the Falcons, of course, means Jacobs's Giants career isn't over yet. He won't play in MetLife Stadium again this year, but he's got at least one game to play still — at Lambeau Field on Sunday. Another solid day for Jacobs and Bradshaw — one that complements the Giants' dangerous passing game — could go a long way toward determining whether he gets to play any more games this year after that one.