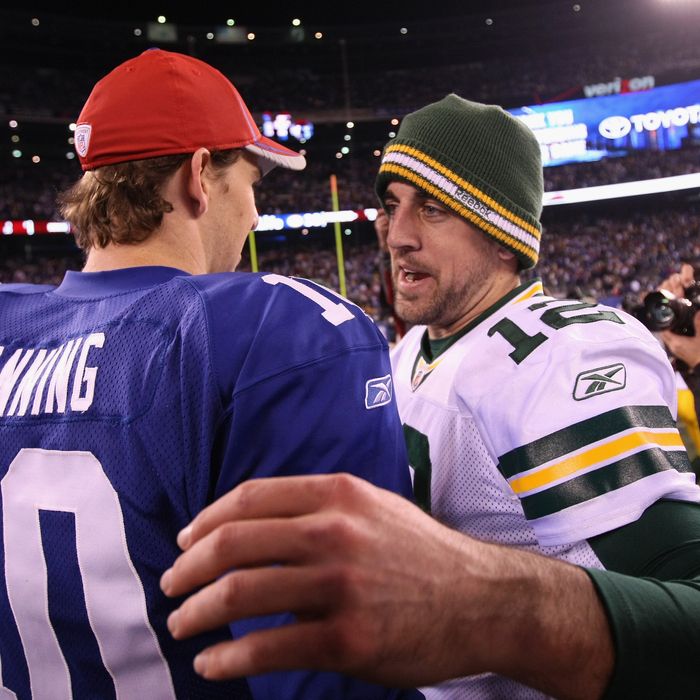 Eli Manning and Aaron Rodgers, earlier this season.
The Giants beat the Falcons on Sunday, setting up a Divisional round matchup against the 15-1 Packers. The last time these teams met, Green Bay escaped with a narrow win, though the last time they met at Lambeau Field, Aaron Rodgers and company had a considerably easier time getting a victory. For the second week in a row, Will's PS3 feels better about the Giants' chances than he does. But what happened this week that didn't involve playing with house money?
The Knicks beat the Bobcats and Sixers, then lost to the Grizzles.
The Rangers extended another winning streak to five, before losing last night to Ottawa.
The Jets named Tony Sparano offensive coordinator. Meanwhile, we learned that some of the Jets have concerns about Mark Sanchez.
On the day three Rangers were named NHL All-Stars, we looked at which Blueshirts have a shot at an award this season.
Carmelo Anthony once again topped our Knicks Power Rankings.
We looked at whether Jorge Posada is a Hall of Famer.
And we caught up with former Knick Trent Tucker.
That's it for us, but we'll be back after the Giants game Sunday. Have a great weekend.