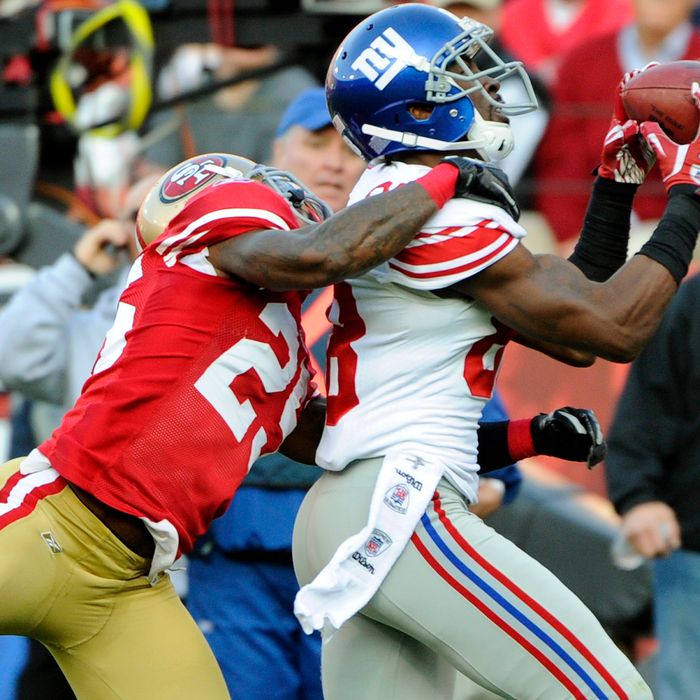 Hakeem Nicks catches a touchdown pass against San Francisco earlier this season.
The Giants knocked off the mighty Green Bay Packers on Sunday — we could watch the replay of that Hail Mary pass all day long — to advance to their fifth NFC Championship game. They'll play the San Francisco 49ers, meaning for the second straight week, they'll face a team that beat them during the regular season. Eli Manning, who had to leave practice this week with what Tom Coughlin called a stomach bug, will be ready for Sunday. So will any Giants fans who made the trip to San Francisco, cost be damned. (For the first time in these playoffs, by the way, Will's picking the Giants, though also for the first time, his PlayStation 3 isn't.) But what happened this week that didn't involve Tiki Barber returning to television?
The Knicks lost games to Orlando and Phoenix.
The Rangers beat Nashville and lost to Pittsburgh. Following that win over the Predators, Jim Dolan said he thought the Rangers were "pretty close" to winning the Stanley Cup. (John Tortorella got a laugh moments later when he called that "bullshit.")
We gave you ten factoids about Michael Pineda and Hiroki Kuroda.
We looked at the Yankees' options at designated hitter.
Carmelo Anthony once again topped our Knicks Power Rankings.
We looked at how low the Mets payroll could go.
We introduced our Peyton Manning-to-the-Jets-o-Meter.
And we chatted with Freyda Spira, assistant curator of the Metropolitan Museum of Art's Department of Drawings and Prints, about the museum's baseball card collection.
That's it for now, but we'll be back after the game on Sunday. Have a great weekend.