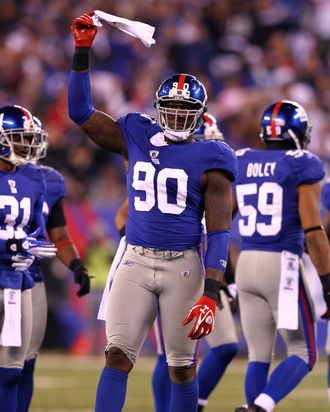 The NFL playoffs begin tomorrow, and the Giants' win over the Cowboys last weekend means they'll open at home against Matt Ryan and the Falcons on Sunday. (Will's PlayStation 3 likes the Giants' chances; Will, however, isn't so sure.) But what happened this week that didn't involve weather forecasts?
The Jets lost to Miami, and missed the playoffs.
The Rangers won the Winter Classic, then beat Florida in overtime last night. Meanwhile, we looked back on the season so far, and said good-bye this year's edition of HBO's 24/7.
The Knicks lost to Toronto and Charlotte, while Isiah Thomas second-guessed their personnel moves.
Fordham beat nationally ranked Harvard at the Rose Hill Gym.
We looked at whether any city schools have a chance at the NCAA Tournament.
The Mets hired turnaround consultants.
Carmelo Anthony once again topped our Knicks Power Rankings.
And we spoke with Maury Brown about the MSG–Time Warner spat.
That's it for now, but we'll be back on Sunday after the Giants' game. Have a great weekend.