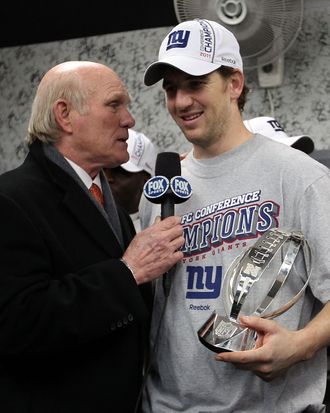 Terry Bradshaw and Eli Manning, on Sunday.
On Sunday, the Giants defeated the 49ers in the NFC Championship Game. And and once talk about that game — much of which involved San Francisco's Kyle Williams — died down, we could start looking ahead to the second Giants-Patriots Super Bowl in five seasons. Just like in Super Bowl XLII, the Giants are the underdogs, though the Patriots aren't favored by as many points this time around. (Speaking of Vegas: Thanks to futures betting, sports books are rooting against the Giants.) Anyway, while you were trying to decide whether to fly to Indianapolis or not, there was some injury news to report: Patriots tight end Rob Gronkowski missed practice with a high ankle sprain yesterday, while Ann Mara, mother of Giants co-owner John Mara, broke her shoulder. (That won't necessarily keep her from attending the Super Bowl, though: According to her son, she's "probable" for the big game.) But what happened this week that didn't involve Eli Manning?
Jorge Posada officially announced his retirement at a Yankee Stadium press conference.
The Knicks finally won a game … and then they went back to losing on Wednesday night in Cleveland.
The Rangers shut out Winnipeg, and entered the All-Star break atop the Eastern Conference standings.
Walt Frazier joined Twitter.
Tyson Chandler topped our Knicks Power Rankings.
We looked at the Rangers' Broadway Hat distribution.
We fired up the Peyton-Manning-to-the-Jets-o-Meter.
And we chatted with former Giants defensive end George Martin, 25 years after Super Bowl XXI.
That's it for us. Have a great weekend.