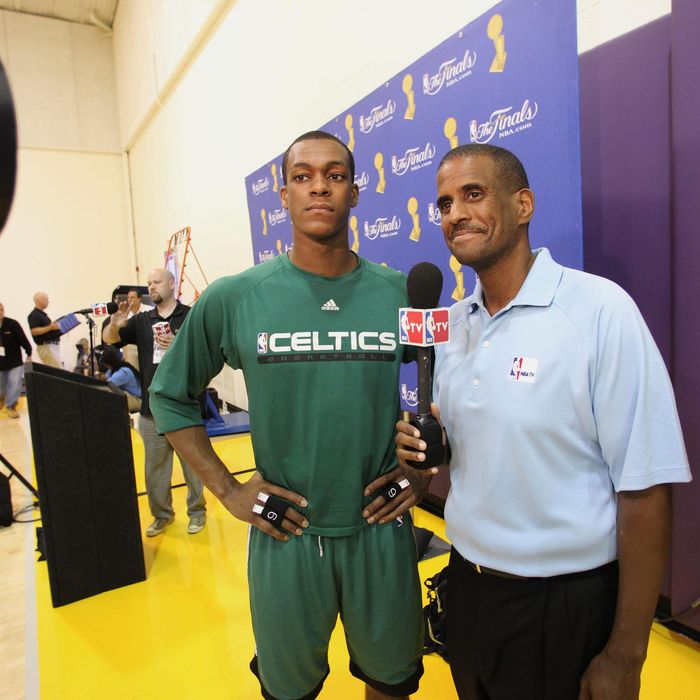 NBA.tv will teach you to love David Aldridge.
Tonight at 7:30 p.m., the Knicks will tip off at Madison Square Garden against the Charlotte Bobcats. For the second time in 2012, if you are a Time Warner subscriber, you will not be able to watch it. Thanks to that billionaire-corporation face-off, Channels 27 and 727 won't take you to the MSG Network and the Knicks game tonight. They'll take you to NBA TV. It's no Knicks game, but you should know: The network does kind of rock.
Generally speaking, we tend to prefer league-owned and sport-specific networks to, say, ESPN: What you lose in editorial independence (and that's far more of an issue in theory than in practice), you more than make up for in obsessive overcoverage of the sport you care about enough to watch a whole channel about it. (And it's not exactly like ESPN is renowned for its "editorial independence" anyway.) It's the type of thing that makes you want to go watch The NFL Network … oh, right, Time Warner won't let us do that either. [bangs head]
Anyway, we've been watching NBA TV for a few years now, down on Channel 488, right in between ESPN Deportes and the MLB Network. It's been on the regular sports tier for a year or so, but we originally paid extra for it on a bonus tier. (It came with CBS College Sports, which we ordered to watch an Illinois basketball game.) We became obsessed with it pretty quickly. The whole channel is basically patterned after TNT/TBS's Inside the NBA — it even reruns that show a couple of nights a week — and features several Charles Barkley wannabes, from Chris Webber to Steve Smith — even Brent Barry. That's okay, though, because they're all very good, and their signature show, NBA GameTime, is essentially a jazzier, more fun SportsCenter that's solely about the NBA. Also, it's only half an hour, so you can pop in and pop out in no time at all.
The network has other shows like Open Court — which is like the MLB Network's Intentional Talk, except about 45,000-times more tolerable — and NB80's, which is a short doc show about eighties rivalries. It also randomly shows old games as NBA Hardwood Classics; Thursday night, they'll be showing Game 6 of the 1994 NBA Finals, if you dare watch it.
But the real key might be the number of actual live games it shows, not just in their entirety — tonight's Knicks-Bobcats replacements are Wizards-Magic and Rockets-Clippers — but also the live cut-ins they do during their live "NBA Game Time" segments, essentially turning the channel into the NBA Red Zone channel. Which, for many people, is the best way to watch the NBA anyway.
Sure, you still won't be able to watch Knicks games — even the ones slated to be on NBA TV at season's start — and that certainly stinks. (We recommend tuning them in on the radio while following along on NBA.com's TV Companion. But until Time Warner and MSG stop acting like the jerks they are and giving us games, it's a perfectly reasonable substitute. Once the MSG Network comes back, you might find yourself, when it comes to NBA TV, addicted. Which is, of course, always the point.