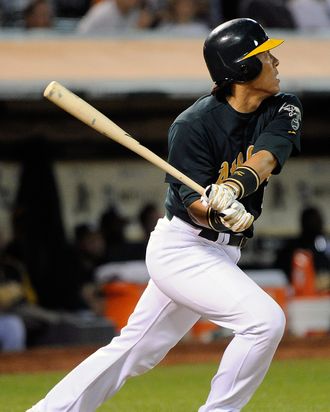 The Yankees bolstered their starting rotation on Friday night, but by trading Jesus Montero to Seattle, they also created a hole at the designated hitter spot. Montero is a catcher by trade, but thanks to concerns about his defense, he would have likely gotten a lot of at-bats as the Yankees' DH next year. So with pitchers and catchers reporting a little more than a month from now (hooray!), what options do they have?
Make do with what they already have. This is the cheapest option, and would likely involve additional playing time for Eduardo Nunez while Alex Rodriguez and Derek Jeter got additional days at DH. Nunez, too, could serve as the DH on occasion, and Andruw Jones could see some action there as well, especially against lefties. There's also Jorge Vazquez, a 29-year-old who hit .262 with 32 home runs for triple-A Scranton last year.
Johnny Damon. The Yankees have reportedly discussed bringing Damon back, though via the Star-Ledger's source, "nothing's going on as of now." Damon would likely make less than the $5.25 million he earned for Tampa Bay last year, and the Yankees appear unwilling to break the bank for a DH. The Yankees reportedly plan to spend between $1 million and $2 million, which means Damon still might be too expensive. The 38-year old Damon hit .261 with 16 homers for the Rays last season.
Carlos Pena. The 33-year-old says the Yankees have been in touch, but he's also said he prefers to play first base. Pena hit just .225 for the Cubs last year, but smacked 28 homers and posted an .819 OPS in 153 games. He could be too expensive for the Yankees, as well, though.
Vladimir Guerrero. As Pete Caldera has already pointed out, Guerrero isn't the type of patient slugger that the Yankees prefer. He had a slash line of .290/.317/.416 last year (if you're curious, he walked just 17 times in 590 plate appearances), and he turns 37 next month. Brian Cashman sought his services once before — back when George Steinbrenner overruled him and signed Gary Sheffield instead — but while Guerrero's just two years removed from a terrific season with Texas, he's hardly the player he was in his prime.
Prince Fielder. The Free-Spending Yankees Act of 2001 requires we mention the most expensive option available, but while Hal Steinbrenner authorized the $10 million it took to sign Hiroki Kuroda, it's unlikely he'd agree to significantly increase their payroll to bring in a DH. Signing Fielder, however, would please John Harper of the Daily News, who's been throwing the idea out there for months. (For the record, in June, Fielder appeared willing to at least consider going to a team where he'd serve as a DH: "I'm not ruling anything out," he told Harper, "but as for right now, I like playing first base.")
J.D. Drew. He gets on base a lot, but also only played 81 games last year, and his OBP has been slipping. Presumably, he'll be seeking slightly less than the $70 million over five years Boston gave him prior to the 2007 season.
Hideki Matsui. Jon Heyman reports that there's been contact between the Yankees and Matsui's representatives, and while the 2009 World Series MVP had his worst season last year — he posted an OPS of just .696 — he could make sense for a couple of reasons. Heyman says that he could fit financially, and D.J. Short at Hardball Talk notes that his numbers on the road last year were better than his numbers at home in Oakland's pitcher-friendly ballpark. And though he wasn't very good against righties last season, for his career, he's hit them well, which could set up a low-cost platoon with Jones on the days the Yankees don't need to rest any of their regulars.