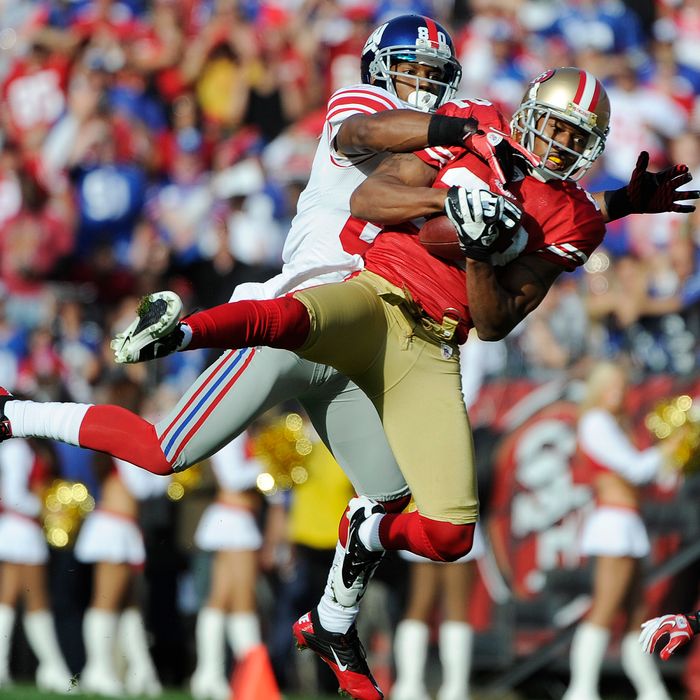 Carlos Rogers picks off a pass in Week 10 against the Giants.
Last weekend, the Giants upset a Packers team that had beaten them earlier in the season. And now on Sunday, they'll face a 49ers team that topped them 27-20 in Week Ten. So what can the Giants learn from that game, as they continue their "Revenge Tour" in San Francisco this weekend?
That Week Ten battle happened at a point in the Giants' season when it seemed like every game came down to the final minutes of the fourth quarter. Just a week earlier, Eli Manning had led a game-winning drive at New England that culminated in a Jake Ballard touchdown with just fifteen seconds remaining. But Manning's magic ran out against San Francisco: A Hakeem Nicks touchdown cut the Niners' lead to seven with 8:37 to go in the fourth quarter, but the Giants' final drive ended not with a game-tying score, but on an incomplete pass that gave the ball back to San Francisco on downs.
Lately, the Giants haven't been relying on Manning to pull off a late comeback: In their last four wins, they've not only led going into the fourth quarter, but extended their lead before the clock expired. In that Week Ten game, however, they were outscored in the final quarter: That Nicks touchdown came after two San Francisco scores — ones that turned a 13-12 Giants lead into a 27-13 Giants deficit. And while the Giants generally have reason to be confident this season if they find themselves behind in the fourth quarter, they surely also saw what happened last weekend in the 49ers-Saints Divisional Round game: New Orleans twice took a lead in the final four minutes and change, and both times, Alex Smith and the Niners answered back to regain the lead.
The Giants allowed just 77 rushing yards in the Week Ten game — Smith ran for 27 of them himself — but Frank Gore left that game with an injury, and finished with zero yards on six carries. But Gore, who appeared to re-injure his right leg against the Saints, said the injury won't be an issue Sunday. (For what it's worth, his 89 yards against the Saints were the most he'd rushed for since November 6 — the week before the Giants and 49ers faced off.) The Giants actually out-rushed the Niners in that Week Ten game — they ran for 93 yards without an injured Ahmad Bradshaw — but gaining yards on the ground against San Francisco is tough: The Niners had the best rushing defense in the NFL this season.
One final thing: Via ESPN, both of Eli Manning's interceptions in Week Ten came on passes that traveled fifteen-plus yards downfield. (Carlos Rogers was responsible for both picks.) The Giants have a dynamic passing game, but that's worth keeping in mind against a Niners defense that picked off 23 passes during the regular season, tied for second in the league.