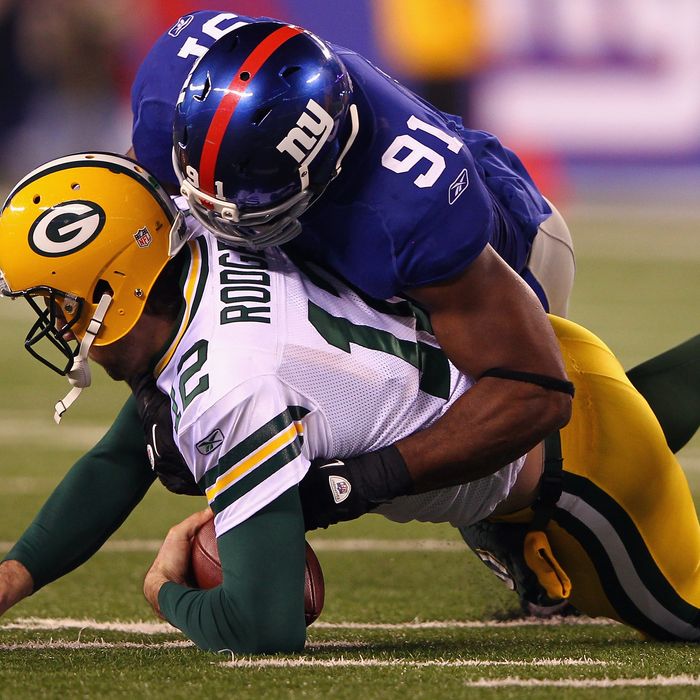 Justin Tuck sacks Aaron Rodgers earlier this season.
The Giants' Week 13 loss to the Packers will be remembered for its wild ending, in which the Giants tied the game with under a minute to go, only to see Aaron Rodgers drive the Packers into field-goal range to set up a last-second, game-winning kick. And rightly so: That finish was bananas. There's a lesson to be learned from that final drive, we suppose: Aaron Rodgers and the Green Bay offense are awfully dangerous, and if you give them a chance to beat you, there's a good chance they will. Of course, the Giants didn't really need to see Green Bay in person to learn that. But what else did we learn from that loss, in which the Giants gave the then-undefeated Packers a helluva scare at MetLife Stadium?
For one thing, Eli Manning had some success throwing deep in that game: According to ESPN, he completed three of his four passes 31 or more yards downfield, one of which resulted in a touchdown. And it's no fluke that Manning was able to throw the ball effectively: The Packers pass defense is a major concern. (They allowed a record 4,796 yards this year; the only team that came close to matching that this season was New England, whom the Giants beat.) Something else worth noting, however: The Packers one loss this season came in the only game in which they didn't create a turnover. And so while dreams of Manning throwing bombs to Victor Cruz (or Hakeem Nicks, or Mario Manningham) run through our heads, it's just as important for Manning to avoid turnovers. Don't forget: Manning threw a pick-six during that Week 13 game against Green Bay — one that gave the Packers their first lead of the game.
At times in that game, the Giants did a good job of pressuring Rodgers: They sacked him twice and hit him five times, at a point in the season when they'd been struggling to get to opposing quarterbacks. But there were also instances of Rodgers getting too much time to operate, such as his fourth-quarter touchdown pass to Donald Driver. (Via the Star-Ledger: "By an unofficial count, the Giants pressured Rodgers only 14 times (plus their pair of sacks) in 50 designed passes the first time around.") The Giants are coming off an outstanding defensive performance against Atlanta's very capable offense. This week, though, is an even tougher test: Green Bay averaged a league-best 35 points a game this year — almost ten points more than the Falcons — while finishing third in yards-per-game.
One last thing: That game against Green Bay marked the return of Ahmad Bradshaw to the lineup after missing more than a month. The Giants' running game had been a problem all season — the low point had to be the home loss to Philly two weeks prior, in which they gained just 29 yards on the ground — and from that point on, they ran the ball at least a little better. Like we wrote yesterday, perhaps the most pleasant surprise of Sunday's win was the Giants' effective running game — Brandon Jacobs's day was particularly encouraging —  and for what it's worth, Atlanta finished the season with the sixth-best run defense, eight spots ahead of Green Bay. The Giants will need to put up more points than the NFL's highest-scoring team on Sunday, and that won't be easy. But their close loss in Week 13 should give them some confidence as they give it their best shot.