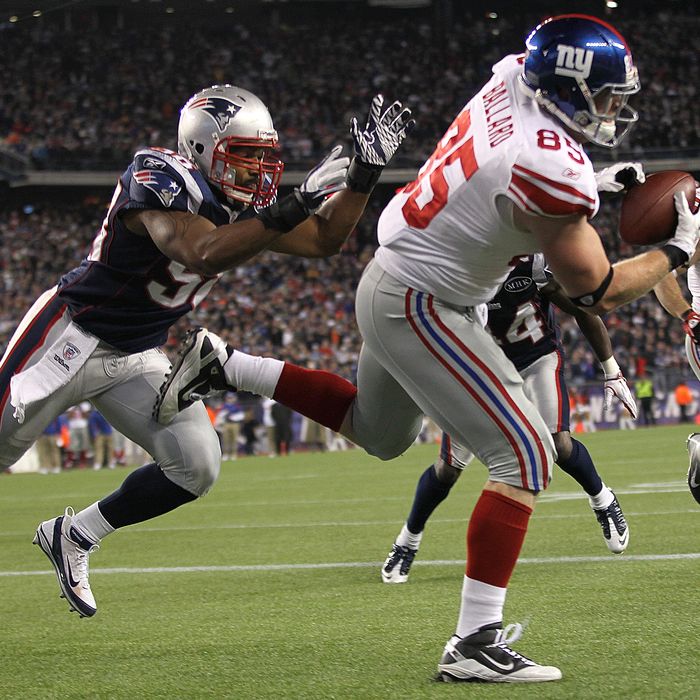 Jack Ballard catches a touchdown pass in Week Nine against New England.
In hindsight, to call the Giants'$2 24-20 victory over New England in Week Nine a turning point in the season isn't really accurate: At the time, it was a hugely satisfying win, but they'd go on to lose their next four games and five out of their next six. So perhaps it's more accurate to call that game the first time we had proof that the Giants could hold their own against an elite team. For the third straight game, the Giants will play a team they've already faced when they meet New England on Sunday, but for the first time during these playoffs, they'll see a team they've already beaten this season. So what can we learn from that game?
Of course, you'll recall that Eli Manning led the Giants on a game-winning drive in the final two minutes of that Week Nine game, with Jake Ballard making two critical catches on that possession: One for 28 yards in a third-and-ten situation, and the other for a one-yard touchdown on third-and-one from the Patriots one-yard line. But here's something else to keep in mind from that final drive: Sergio Brown was called for a twenty-yard pass interference penalty to put the ball on the New England one-yard line.
The Patriots had already been called for defensive pass interference on a previous Giants fourth-quarter possession — that one, on Kyle Arrington, gave the Giants a 35-yard gain — and indeed, New England is prone to giving up long pass interference penalties. Via ESPN, the Patriots were called for five interference penalties of at least twenty yards this season, tied for the most in the league. Manning figures to throw the ball plenty this weekend — only Green Bay allowed more passing yards during the regular season — so that's worth keeping an eye on.
The Giants were missing some key players in that Week Nine game — neither Hakeem Nicks nor Ahmad Bradshaw played, nor did center David Baas — and Manning still had a strong game, throwing for 250 yards and two touchdowns (in addition to one interception), and of course, orchestrating that game-winning fourth-quarter drive. Brady, meanwhile, had a good fourth quarter, but he'd already made a number of mistakes: He threw two interceptions and also lost a fumble.
In all, the Patriots would turn the ball over four times. ESPN Boston, in looking back at that game, writes that New England was as sloppy that day as they were all year. To quote the Times, "Brady played mentally hurried, which led to inaccuracy, poor decisions and jittery pocket movement."
But for what it's worth, ESPN also points out that both Brady and Manning are effective against the blitz:
In Week 9, both of Manning's touchdowns came against at least six rushers. This season, defenses sent extra pressure at Manning more often than any other quarterback, and he excelled. His 18 touchdowns against five or more rushers led the league. As for Brady, no quarterback posted a better TD-Int differential than his +15 against extra rushers. Pressuring them is important, but both offensive lines ranked in the top eight in sack percentage.
In that Week Nine game, the Giants applied some pressure to Brady and sacked him twice, while Manning wasn't sacked at all.
The Giants are playing their best football of the year right now, but the Patriots are hot as well: Baltimore may have given them a scare last week, but they haven't lost a game since falling to the Giants in Week Nine on November 6.