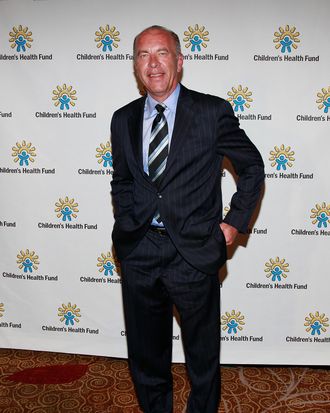 When will Time Warner subscribers see this man's handsome face again?
If you, like us, have Time Warner Cable, you were unable to watch the first Knicks game of 2012 last night. Instead of the MSG Network on channels 27 and 727, there is NBA.tv. Instead of MSG-Plus, there is the NHL Network. Yep, billion-dollar corporations are fighting each other again, and, as tends to be the case when that happens, the rest of us just have sit by and wait for them to decide how to divvy up all the money we give them. Oh, and not watch the Knicks or Rangers. To get to the bottom of this business, we talked to Maury Brown, president of the Business of Sports Network and one of the smartest people about this stuff we know. After the jump, our chat.
Like with most of these cable disputes, neither side has done much to explain what's actually going on. They're just blaming each other. What exactly is this dispute over? Why is this happening now?
The issue is between the two centers on the escalating rate that networks are looking to charge carriers. In this case, TWC is claiming that MSG is looking for a 53 percent increase in fees to carry the likes of the Knicks, Rangers, Islanders, Devils, and Sabres. The sides have been trying to come to a new broadcast agreement for two years.

Is this something that happens more commonly with Time Warner, or MSG?
Time Warner, because of their size, has been involved in more disputes, but at its core, this is about the massive escalation in television money that is occurring with sports properties. Time Warner isn't just a carrier; they also inked a deal with the Lakers in excess of $4 billion. That's been a talking point by MSG. They're basically saying, "If you're willing to invest in the Lakers, you should be willing to do so with the New York sports franchises we air."

So these are two notoriously customer-unfriendly companies. Which one, in your opinion, is being more unreasonable here?
I'd say they're both being equally unreasonable in that the consumers are the ones who wind up being pawns in this battle over money.

We always think these are going to be short-lived, but then again, Time Warner STILL doesn't have the NFL Network. Is there any danger of this going on indefinitely?
Ultimately, the rights fees that networks charge to the carriers get passed down to the consumers. The NFL, owing to their incredible popularity, is seeking high rights fees. I don't know if 'indefinitely' is the right word, but TWC doesn't seem to be getting tremendous pressure at the moment to carry NFL Network.

Are there any options for someone stuck with Time Warner and desperately wanting to watch the Knicks and/or Rangers? League Pass or Center Ice? Pirate feeds? Or do we have to go to sports bars with DirecTV? This'll be taken care of before the playoffs, right?
For the time being, I'd say fans are going to be stuck heading to the bar watching DirecTV. That said, this dispute should be resolved at some point. The question is, how many fans will jump from TWC, or whether MSG will back down on the steep rights fee increase first.