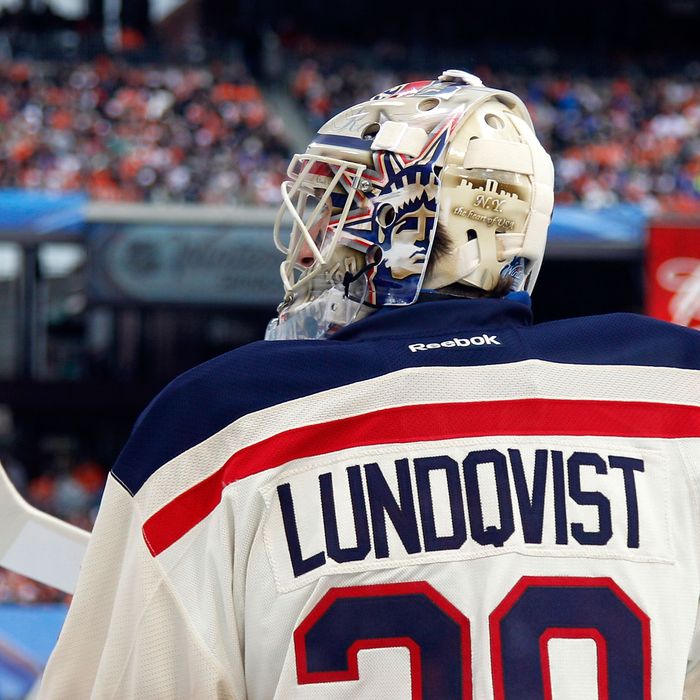 Tonight, the Rangers will play their 41st game, and thus officially hit the midpoint of the season. We've already looked back on the season's first half — as we wrote last week, the days off after the Winter Classic felt like a more natural break — but with all the mid-season awards predictions coming out this week, we wanted to take a look at which Rangers have a chance at a trophy this year.
With half a season in the books, goalie Henrik Lundqvist might be the favorite to win the Vezina right now. He's currently third among qualified goalies in both goals against and save percentage, and in both cases, he trails Tuukka Rask and Brian Elliott, neither of whom leads his team in games played. (Rask, who is having a fine season, is the backup to Tim Thomas in Boston, while Elliott is splitting time with Jaroslav Halak in St. Louis.) Lundqvist, meanwhile, is having a career year — and Martin Biron's stellar play should mean Lundqvist gets the rest necessary to turn in a strong second half. Boston's goalies might combine to win the Jennings Trophy — given out to the netminders on the team that allows the fewest goals — and both Thomas and Jonathan Quick will be right there in the Vezina race as well, but if Lundqvist's second half looks like his first, we like his chances.
John Tortorella, meanwhile, looks like he'll get some consideration for the Adams Trophy, though if the season ended today, we don't think he'd win it. The Blues turnaround in St. Louis has been too dramatic not to give the award to Ken Hitchcock. The Blues are a talented young team that had been underachieving, but credit Hitchcock for getting them to put a slow start behind them. Meanwhile, Tortorella's impact on the Rangers is huge — he's totally convinced them to buy into his system — but remember, this team was supposed to be good — just not quite this good. And so for Torts to be recognized, we think the Rangers would not only have to exceed expectations (as, say, the No. 2 seed in the playoffs), but finish atop the East. If that were to happen, it would draw lots of attention to what Tortorella has been building for a couple years now.
We suppose Marian Gaborik has a shot at the Richard Trophy, given to the league's leader in goals. He's currently third behind Steven Stamkos and Phil Kessell. But we don't think he or anyone else will top Stamkos, who's on pace to surpass 50 goals and make a run at 60. (That said, Gaborik is on pace to set a new career high in goals, so we are not complaining.) And as great a year as Dan Girardi is having, the Norris would be a real stretch. (At least he got a well-deserved All-Star selection.) Girardi's been terrific as a shut-down defenseman this year, but he doesn't put up big point totals, which hurts him for something like this. Case in point: Take a look at Pierre LeBrun's mid-season awards, which include Michael Del Zotto, and not Girardi, as a Norris honorable mention. No offense to the much-improved Del Zotto and his terrific plus-minus, but Girardi's been the better of the two this year. Not Norris-worthy, necessary, but still very, very good.