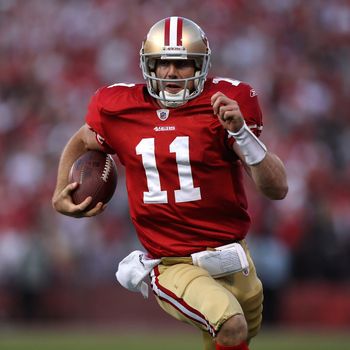 Alex Smith, COMING AT YOU.
Quick, what's the number of this year's Super Bowl? We had to look it up, and if we had deigned to guess, we would have been way off. It's Super Bowl XLVI, which is Roman numeral for "9,382," we think. (Okay, it's actually 46.) By Sunday night, we will know who will achieve their lifetime dream of playing a February football game in Indianapolis. We've done so poorly with the predictions so far that we thought we'd give you a couple more. Here goes.
Sunday, 3 p.m., Baltimore Ravens at New England Patriots.

For all the talk about how much more parity the NFL supposedly has compared to Major League Baseball, it sure does seem like the same teams end up sticking around late every year. (The Jets over the last two years being the odd exception.) Of the four teams in the conference championship games, three of them have won Super Bowls in the last eleven years, and the one that hasn't (San Francisco) happens to be 5-0 in the Super Bowl lifetime. (Though it has been seventeen* years for the 49ers. Poor schmucks.)
And nothing's more familiar than seeing the Ravens and Patriots playing for the Super Bowl; only once in the last eleven years has an AFC team that's not Baltimore, Pittsburgh, New England, or Indianapolis made the Big Game. Even though the Patriots have had more success — and Bill Belichick has been there forever — it feels like this game could mark the end of an era more for Baltimore than New England. (Tom Brady has more years than Ed Reed and Ray Lewis, we'll say.) There's a temptation just to go with the Patriots because of how amazing Brady looked last week; no one is going to pick Joe Flacco over him in a matchup.
We'll go with that temptation. This doesn't even seem like one of the Ravens' best defenses, the Ravens didn't look all that great against the Texans, and, all told, the Patriots are easier to run on than pass on. One imagines them stacking up on Ray Rice and making Flacco beat them. Though we can see Anquan Boldin having a huge game, we just don't see how Baltimore possibly scores enough to hang in. Pick: New England.
Sunday, 6:30 p.m., New York Giants at San Francisco 49ers
If you'll forgive the indulgence, we keep seeing tons of parallels between the 2011 World Series Champion St. Louis Cardinals and this year's Giants. Extremely talented teams who spent much of their regular seasons dawdling, riddled with inconsistency, driving their fans crazy, beginning to look like they had, at last, tired of their veteran, demanding manager–coach. Then, after sneaking into the postseason, they found themselves and began to look like the platonic ideal of the team their fans had been desperately waiting for all year. They peak at the exact right time and knock off the overwhelming league favorite (the Phillies are the Packers in this instance). They look unbeatable precisely when they need to look unbeatable.
We like it. We like it a lot. The last two weeks, it's hard to reconcile the Giants' domination with, say, that belly flop at home against Washington. This San Francisco team has its own sort of magic — that Vernon Davis catch and subsequent embrace of coach Jim Harbaugh is already part of 49ers legend, no small feat considering the franchise's history — but right now, the way the Giants are playing … well, if the Packers couldn't fare any better than they did, it's tough to see how San Francisco will be able to hang in.
And yes: We picked against the Giants in each of the first two rounds. So, sorry for this. Pick: New York.
* This post has been corrected. It has been seventeen, not eighteen, years since the 49ers won their last Super Bowl.