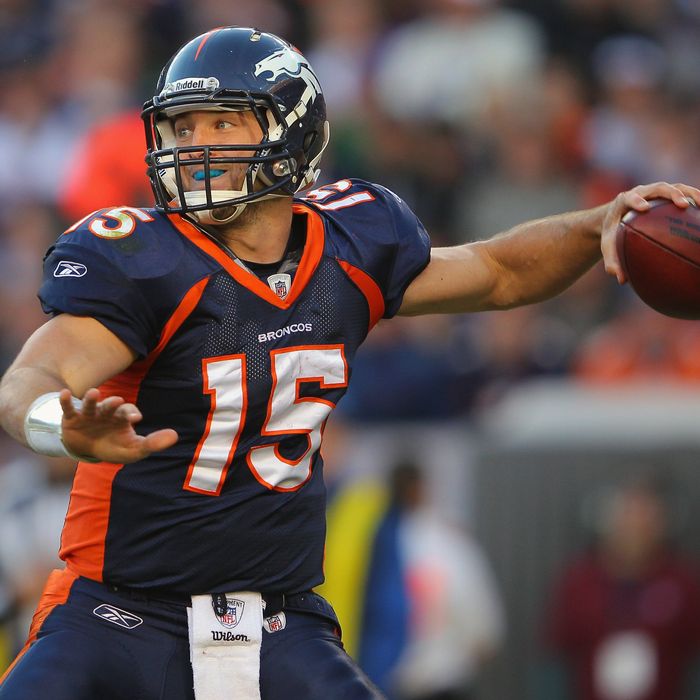 The ball's about to hit the ground.
An NFL season that many thought would never come to pass has turned out to be one of the most entertaining in recent years, with a near-undefeated team, a record-setting season from Drew Brees (who still probably wasn't even the best quarterback in his own conference), new playoff faces like Detroit and, of course, the all-encompassing chit-chat maw that is Tim Tebow. The playoffs are finally here. Let's pretend we know what we're talking about and make some predictions.
Saturday, 4:30 p.m., Cincinnati Bengals at Houston Texans
Drew Magary pointed this out in his Jamboroo yesterday, but games like this one — which seem like the worst of the first weekend — often turn out to be the most entertaining. So here it is. The Bengals have a rookie quarterback and stumbled their way into the playoffs, losing in Week 17 after beating Arizona in Week 16 in a game they absolutely should have lost. Meanwhile, the Texans have lost three in a row — their last win was over Cincinnati — and T.J. Yates will have a short leash. Unfortunately, his backups are Jake Delhomme and Jeff Garcia. (Jeff Garcia is still alive!) This looks like a dog of a game, which means it will surely be the first one to test the overtime rules put in place last year but never used. Whoever wins is toast next week anyway, so we'll go with the home team. Pick: Houston.
Saturday, 8 p.m., Detroit Lions at New Orleans Saints
This should be an offensive blast, with two terrific units playing in a dome and racking up the points. It would have perhaps behooved the Lions to have beaten the Aaron Rodgers-less Packers last week to secure the No. 5 seed rather than the No. 6 one; the Giants might have been a better matchup for them than the Saints. That said, they'll be throwing all day. It's pretty tough to beat the Saints in front of their crazy home crowd, and though we don't think this is a "just happy to be there" scenario for the Lions (this feels like the start of something for Detroit, rather than the end of something), it's hard to see them coming into the Superdome and taking over. Unless, of course, Ndamukong Suh murders Drew Brees in the first five minutes. Pick: New Orleans.
Sunday, 1 p.m., Atlanta Falcons at New York Giants.
As has been mentioned, Matt Ryan has never won a playoff game. (He's 0-2.) The Falcons feel like a little bit of a sleeper team, a relatively drama-free unit that does nothing spectacular but could get on a playoff roll. As for the Giants … well, who knows with these guys, at this point? They tend to get up for games like this, and they are certainly a talent match for Atlanta … but we keep having nightmares about that Redskins game. The Giants haven't necessarily proven to be the most resilient in-game team; if the Falcons jump out to a lead early, one should worry. We hate to be the bad guys here, but we have a sinking feeling about this one. Pick: Atlanta.
Sunday, 4:30 p.m., Pittsburgh Steelers at Denver Broncos.
On one hand, it's ridiculous that the Steelers don't get to play this game at home; they won four more games than Denver, for crying out loud. On the other hand, playing it in Denver makes it considerably less likely that Bane will blow up the stadium. All objective evidence points to this being a blowout win for the Steelers. The Tebow magic is wearing off, the Steelers are better in every possible way and, may we remind you, the Broncos have, like, two pass plays. But still … but still … there's something about Tebow … naw, who are we kidding? Pick: Pittsburgh.