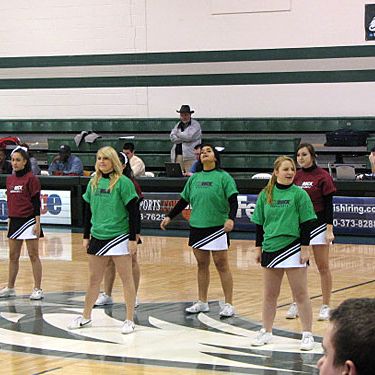 These are Wagner cheerleaders, not Rhythm Central.
Two years ago, as part of our NYC College Hoops Tour, we went to a Wagner basketball game in Staten Island. It was a completely terrifying experience, particularly the halftime dance troupe called Rhythm Central. Here's how we described Rhythm Central at the time:
Then halftime came. At halftime came the living nightmare that was Rhythm Central. Rhythm Central is a dance group of fourth graders, glammed up in Jon Benet eyeshadow and rouge, gyrating and floor-humping and booty-shaking and making the world feel like a cold, evil, terrifying place, while their parents filmed and cheered and screamed, "That's my daughter!" Yes. Yes, it is. They all packed up and went home after the show, leaving the arena about three-quarters empty and our eyes flipping like a train station arrival board, having seen things that you can never, ever unsee.
Yeah, so, that experience not only turned us off Wagner and Staten Island, it nearly turned us off college basketball. (Sports, even.) In the interest of self-preservation, we hadn't thought much about Wagner basketball since then, and why should we? The game we saw featured Bryant beating Wagner 53-51 to notch their first win of the season. It raised Bryant's record to 1-26; it dropped Wagner's to 4-24. It certainly didn't seem like we were missing much.
But check out what Wagner is doing this season: They're 14-3, 5-1 in the Northeast Conference. They've won seven in a row. They've beaten high-profile teams like Pittsburgh, Santa Clara, Air Force, and Princeton. They've got an 80 RPI and have been mentioned on some NCAA Tourney Bubble Watch lists. They even got a vote in this week's AP Top 25 poll. (That was totally from the Daily News's Dick Weiss — has to be.)
What the heck happened in two years? Dan Hurley happened. The former Seton Hall guard — and son of Bob and brother of Bobby — was hired before last season after building Saint Benedict's Preparatory School in Newark into one of the top high-school programs in the country. (The great Adrian Wojnarowski wrote an excellent book about Hurley Sr. a few years ago.) He immediately started turning Wagner around, winning thirteen games in 2010-11 before this season's breakthrough.
Dan Hurley is only 39 — his brother Bobby is an assistant — and is starting to have quite a badarse career; he's even getting the "front of sports section jump news-feature" stories in USA Today. You can totally see him coaching at a major program in the next few years.
Though right now, Wagner is a major program: They're currently 81 in the KenPom ratings, ahead of programs like Pittsburgh, Notre Dame, Iowa, and, yes, St. John's. The way this usually works is that an upstart coach like Hurley wins his conference tournament and then pulls off an upset in the NCAA Tournament to open the door to major jobs. Wagner's favored to do that, and they might even win the NEC regular season tournament, giving them home-court advantage throughout that league's tournament. (Last year's NEC championship was in Brooklyn, with Long Island's win over Robert Morris.) So the NEC title game could be in Staten Island.
We're excited about Wagner and Hurley and everything … but we're not going back there, even if the NEC tourney final is there. After Rhythm Central, never again.