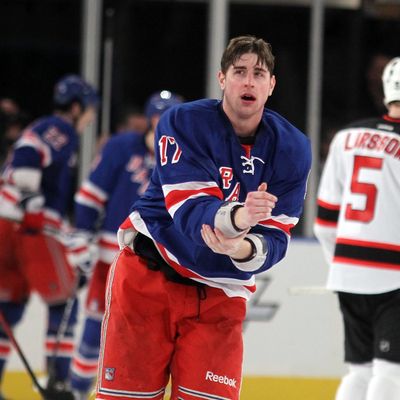 Brandon Dubinsky, still a Ranger.
The Rangers team you saw last night — the one you've been seeing all season, in fact — is more or less the one that will take the ice for the stretch run and beyond. (We say "more or less" not only because the Rangers acquired a player, John Scott, yesterday, but because Glen Sather hinted before the game that Chris Kreider, the Boston College junior who survived the trade deadline, is probably going to turn pro at the end of the school year.) But in any case, yesterday's trade deadline brought no big-name scorer. It saw no splashy move. And last night — with the core of the team intact — the Rangers earned a hard-fought 2-0 victory over New Jersey.
It's still too early to consider potential playoff matchups — first round or otherwise — but we'll point out that these two teams have played some tight games this season, with each team winning twice. Last night's game was especially intense — Brandon Dubinsky, unsurprisingly, had some words for David Clarkson after it was over — and the hockey fan in us would like to see these teams play every couple of nights for two weeks, even if the Rangers fan in us knows the Devils have played their cross-Hudson rivals tough this year.
Neither team gave up many opportunities last night — they combined for just 28 shots — but Henrik Lundqvist was sharp when he needed to be in recording his league-best eighth shutout of the season. (Carl Hagelin scored a first-period goal to give the Rangers a 1-0 lead, and Ryan Callahan added an empty netter to seal the victory.) It was the kind of game in which Scott, the 6-foot-8 defenseman/forward acquired from Chicago yesterday, could potentially make his presence known. It was unlikely that the Rangers — even with their pre-deadline roster — were going to be pushed around down the stretch. But Scott's presence in the lineup would add toughness that would be welcome on a night like last night.
The Rangers hadn't been playing their best hockey in the week leading up to the deadline, but last night's was a satisfying victory in a tight game over a rival club. Might their slump be over?