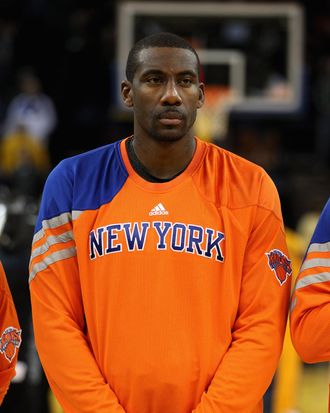 Horrible news broke this morning of the death of Amar'e Stoudemire's older brother, Hazell. A TMZ report revealed that the 35 year-old was killed in a car accident very early Monday morning:
The accident happened on Route 27 in Lake Wales. According to the Florida Highway Patrol, Stoudemire was driving at a "high rate of speed" when he collided with the rear of a tractor trailer.

He died on the scene.
This is just heartbreaking news, particularly for a guy who's had to endure quite a bit of familial hardship — the divorce of his parents, the death of his father when Amar'e was 12, extensive legal troubles for his mother and brothers — throughout his life. Our deepest condolences go out to Amar'e and his family.
Amar'e headed home to Florida this morning to be with his family. He'll miss tonight's game against the Jazz, and Mike D'Antoni made it clear this afternoon that Stoudemire will be allowed as much time as he needs to mourn and recuperate. The Knicks are in Washington on Wednesday, then back home to face the Lakers on Friday. In the meantime, Jared Jeffries will start at power forward in Stoudemire's stead.
Again, condolences to Amar'e and the Stoudemires. We look forward to his return to the court and wish the whole family the best in these trying times.