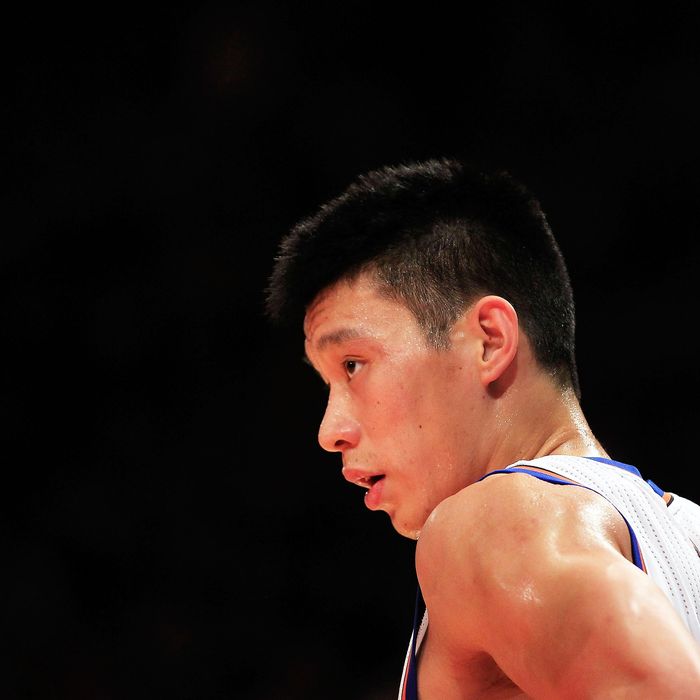 Yesterday, Seth ran through a number of humorous scenarios in which Jeremy Lin would fit into All-Star Weekend; our personal favorite was, "Deliberately injure a bunch of the guards on the Eastern squad so that Jeremy can serve as a replacement." And it's really looking like the NBA is gonna find a way to make their most unlikely marketable commodity available in Orlando, making him do something. We do not like this at all.
Listen, we know that the NBA is going to do everything in its power to find something for Lin to do, even if it's that dumb-dumb "Shooting Stars" competition that no one ever watches. (Not that Jeremy Lin, Cappie Pondexter, and John Starks shooting from the top of the key isn't the most thrilling visual spectacle.) But we don't see a single positive that comes out of any of this, unless they're going to somehow sneak him into the actual game itself. (And they're not.)
First off, there's no real way to showcase him without him seeming like a novelty act. He's not an inherent three-pointer shooter, so he can't have a Spud Webb–but-in-the-three-point-contest moment. He can't go in the Dunk Contest unless they start giving 10s just for the ability to dunk. Or, even worse, serving as some sort of "prop" for Iman Shumpert. And the other contest is just dumb. There might be some value to finding a way to sneak him into the rookie/sophomore game, but that's still a relatively minor event in the grand scheme of the weekend. (Quick: How did Landry Fields do last year? And you loved Landry Fields last year!) The All-Star Weekend is about gimmicks, and if there's anything Lin and the Knicks have done everything in their power to fight, it's the idea that this is some sort of gimmick. Everything over All-Star Weekend that isn't the actual All-Star Game lessens the Lin story, for some cheap, empty PR pop. In freaking Orlando.
Most important: Lin is gonna need some rest. He is already playing far, far more minutes than he has at any other time in his life, and we have already seen him visibly exhausted at the end of games. Opponents are playing (and will continue to play) him by knocking him around when he comes into the lane; he's bigger than people think, but he can still only take so much banging around. And Lin has shown a consistent aversion to this madness surrounding him, or at least an indifference to it: A weekend at home relaxing, with family or just with Jared Jeffries (playing Plinko, we'd bet), would do him a ton of good. The goal is to win games for the Knicks. This is what Lin has always said, and we absolutely believe him. The best thing he could do All-Star Weekend is stay away. There will be plenty of time for the NBA to showcase their newest star in the playoffs.
For that matter … it wouldn't hurt Carmelo to take the weekend off, either.