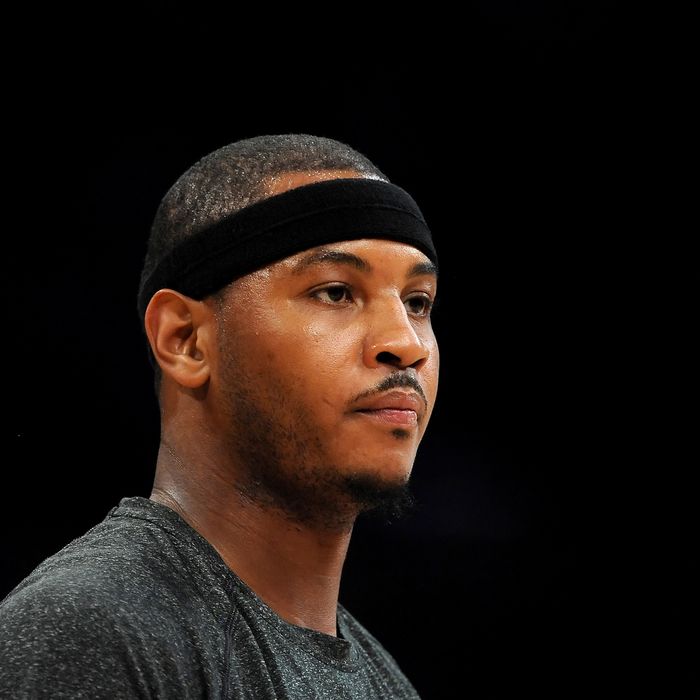 Things have changed a bit, since you left.
It is important to remember that Carmelo Anthony was testing the patience of Knicks fans before Jeremy Lin showed up and changed everything about the franchise in seven days. At the end of the crushing loss to the Nuggets, when Carmelo was missing clutch shots (though of course he hit a huge one to send them to overtime in the first place), fans were undeniably booing Carmelo. He heard them, too: It was after that game that Carmelo made his infamous self-critical "maybe I'm shooting too much" musing. If he thought fans were worried about him then, though, he ain't seen nothin' yet.
Yes, we have reached the point at which fans are terrified that the player their team traded most of their roster for less than a year ago is going to return from injury and mess up the beauty created by a D-League waiver wire pickup from Harvard. Even Magic Johnson is worried about it, saying, "Those guys both better  realize — Stoudemire and Anthony — that it's a new sheriff in town and just jump on [Jeremy Lin's] back and get along on the ride." (That quote is heavily edited, so humans can understand it.)
The complaints have even made it back to Carmelo, who tweeted, "I didn't realize that. Thanx4update" in response to someone who commented – reasonably — "Wonder if @carmeloanthony knows or cares how terrified #Knicks fans are about his return." The fact is, fans are terrified about it. Amar'e Stoudemire is returning for tomorrow night's game in Toronto, and even though he's had a far worse year than Carmelo, nobody's concerned about him. They think he's going to be terrific with Lin. Carmelo's the worry. Carmelo is the one who won't fit.
This is a bit crazy, and not just because Carmelo is gonna start in the All-Star Game and play for the Olympic team and yet might not be welcomed back by the same fans who couldn't wait for him to come "home" after the Nuggets trade. 'Tis the power of Linsanity.
There's a strong argument to be made that the worries are considerably overblown. The reason Anthony had to shoot so much before he left with his injury was, well, the Knicks didn't have many other offensive options. Without a point guard to create, Carmelo had to do it himself; it's not like Carmelo wasn't the Knicks' best offensive option every time down the court. He sorta had to shoot all the time. Also: It's not as if Carmelo has never played with a point guard before. He was great with Chauncey Billups last year, and, for that matter, with Billups during the 2008–09 season, when the Nuggets came two games away from reaching the NBA Finals. And isn't a point guard what the Knicks have been trying to pair with him all year anyway? Now he has one. Why shouldn't everyone be happy? Mike D'Antoni certainly is.
Tommy Dee at the Knicks Blog has a great post trying to figure out precisely how this will work — his guess is that Anthony hangs on the perimeter like Steve Novak and Bill Walker have been, and only posts up as an emergency, nothing's-working-give-it-to-Carmelo end-of-shot-clock solution — but this seems to be an issue that has less to do with basketball than narratives. The Knicks, pre-Lin, were struggling, and Carmelo was the face of that struggle. Carmelo injures himself at the same time Linsanity takes over, and suddenly, Carmelo was part of the problem rather than the one guy around trying to fix it. The best thing you can give a point guard is "options," and Carmelo is a terrific one.
But this is starting to feel like a no-win situation for Carmelo. Right now, Lin is perfect: He hasn't lost, and the Knicks have turned their season around. He's getting Amar'e back tomorrow, and he has three very winnable games this week (at Toronto, home against Sacramento and New Orleans), games Carmelo won't be around for. When Anthony returns, the schedule tightens up. Also, Lin is sure to regress at some point, and there will be inevitable growing pains as everyone figures out the new order. If the Knicks lose some games they shouldn't during this time, it's not going to be Lin fans blame: It'll be Carmelo.
The only way out of this for Carmelo is for the Knicks to win with the same regularity when Carmelo returns as they are doing right now. That is impossible. Carmelo wanted New York's spotlight. He's about to have it.