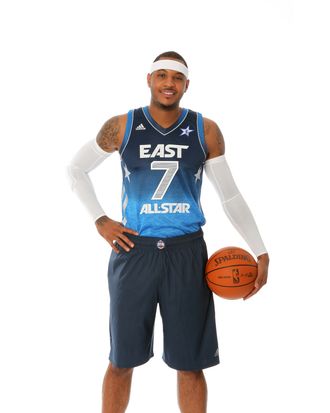 This is not a candid shot.
So much has happened since the Knicks traded for Carmelo Anthony — the "I'm coming home" Red Hook business, the playoff sweep, the lockout, the Tyson Chandler signing, the early-season faceplant and, of course, most of all, Linsanity — that it almost feels odd that this weekend will be Carmelo's first All-Star game appearance as a New York Knick. It's Carmelo's fifth All-Star Game overall, but his first in the Eastern Conference and, weirdly, it feels like the least deserved and important. Last year, the All-Star Game was all about Carmelo, where he was going, when he was leaving Denver. This year, Carmelo might be asked more questions about his teammate than himself.
In a way, it's all sort of anticlimactic. The Knicks wanted All-Stars — wanted to compile them — and now that they have a perennial one, he's a supporting character in his own story. Carmelo probably shouldn't be on the team — he's been hurt a lot of the season and has hardly been dominating when he's been around — and there's a sense that the reasons he was voted in (individual popularity, alpha dog ball-hoggery) are the exact things the Knicks and the NBA are trying to get away from right now. It's a point guard league now, it's a team defense league now, it's an offensive efficiency over usage rate league now. In those sort of ways, Carmelo almost feels outdated. And this is just his first All-Star game as a Knick! He just got here!
Now, this is a bit unfair to Carmelo, who, after all, still might have that Paul Pierce gear in him. But there is still a sense that Carmelo's All-Star appearance is obligatory and grandfathered in, a past performance is no indicator of future results sort of thing. The All-Star Game has sometimes felt more suited to Carmelo's skill set than actual NBA basketball; there's a vague notion that maybe we shouldn't be encouraging Carmelo with an All-Star Game, you know?
That said, he's there, and he's there as a Knick, and that's a rare thing: The Knicks have had All-Stars in three consecutive seasons (Amar'e Stoudemire last year and David Lee in 2010), but before that, they hadn't had one since 2001 (Allan Houston and Latrell Sprewell). So it's nice to see one of your guys running around there, one supposes. Still: Considering all the work the Knicks have to do, and the rest Carmelo needs as he works his way back into full-speed shape, if Eastern Conference coach Tom Thibodeau wants to limit Carmelo's minutes on Sunday, we will not complain.
Carmelo's the only guy in the actual All-Star Game, but of course Linsanity will be a part of All-Star weekend. Fortunately he gets to skip the potential humiliation (and potential injury) of lying on a couch that Iman Shumpert is jumping over during the Dunk Contest tomorrow, but he'll be hanging out with Landry Fields on Team Shaq at the Rising Stars Challenge tonight. With any luck, we'll get to see him toss a lob to Blake Griffin. Also, tomorrow, Fields will participate in the Shooting Stars event, the dull "watch people just shoot baskets" thing he'll do with Cappie Pondexter of the Liberty and Allan Houston, his boss.
And, as a Knicks fan, mercifully, everyone but Lin, Fields and Anthony get the weekend off. This is a time for rest and healing and team-building, the literal opposite of what's going on in Orlando this weekend. You guys have fun out there, but get back here safe, and then get back to work.