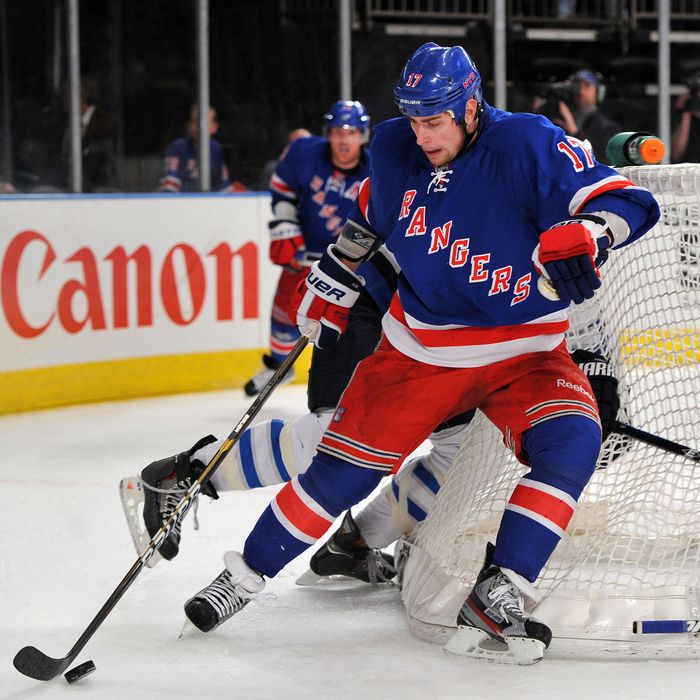 The NHL trade deadline is less than two weeks away, and whether or not the Rangers make any moves, they're sure to be part of all sorts of rumors. Already there was the Ryan Smyth report from earlier this month. Or the Shane Doan chatter from back in January. And the latest comes from the Ottawa Sun, which reported over the weekend that Glen Sather had interest in Rick Nash. But Sather enters the trade season is a strong position: His team currently sits atop the Eastern Conference standings, and he has no reason to be desperate.
Via the Daily News, the Sun report speculated that Columbus "may demand" Brandon Dubinsky, prospect Chris Kreider, and a No. 1 pick for Nash. It's the kind of trade the Rangers haven't been making in recent years. They've been holding on to their young players and allowing them to form the core of what's become a very, very good hockey team.
Look, Nash is a better player than Dubinsky, and we have no doubt he'd provide scoring punch on a team that could use some more of it. But in the Sun's scenario — which sounds like the kind of package it would require to obtain the Blue Jackets' franchise player — the Rangers would also be giving up a highly touted prospect who could potentially join the team as soon as this spring, after Boston College's season ends. (Kreider, by the way, scored a goal for BC last night as it won its third-straight Beanpot title.) They'd also give up a first-round draft pick, and the draft has been crucial over the past several years as Sather has built the team largely through the Rangers' system.
There's also the question of money: Nash is in the second season of an eight-year, $62.4 million contract. (That's a $7.8 million cap hit.) Moving a contract like Dubinsky's would clear the necessary space for such a deal, but in the post-lockout NHL, having too many such contracts gives a GM less flexibility going forward.
But rather than focus too much on a rumored trade, it's best to look at the big picture here. The Rangers have been terrific this season, but there's reason to believe their window of opportunity will be open for a couple of seasons beyond this year. They don't necessarily need to go all in for this spring — not if it will cost them in the long run. Back in 1994, Neil Smith went for it at the deadline, and it paid off. But there's no reason to do something like that this year. Sather should have enough confidence in this team to let it go into the playoffs more or less the way it looks today, and can reassess things as necessary in the off-season.
We're not necessarily opposed to moving a homegrown player at some point if the deal makes sense — and we've thought for a while that Sather would be willing to part with Dubinsky, in particular — but the price needs to be right for what they're getting in return. The Rangers have exceeded expectations to this point, but they're also not done developing. We're still not sure how good this group can be, and we won't know before February 27. And so if they can be successful without bringing in another big name with a big contract, then there's no reason to trade away promising players making reasonable salaries.