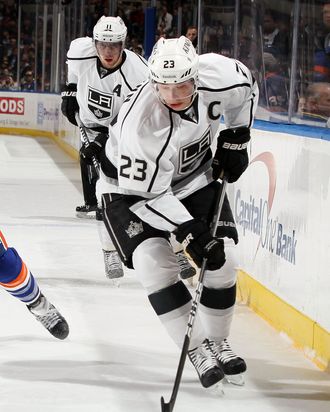 With the NHL trade deadline just three days away now, it's possible that Glen Sather is content with his team, and won't make any major moves. But if he is indeed looking to add a forward in the next couple of days, Dustin Brown's name has emerged on the rumor mill as an alternative to Rick Nash. Via the SNY Rangers Blog, Bob McKenzie of TSN reports that the Kings could be open to trading Brown, and Darren Dreger tweeted that the Rangers are one of the teams interested.
He's an intriguing option: He won't compile the scoring numbers that Rick Nash does, but he's good for between 50 and 60 points a season, and his contract is far more manageable. Perhaps Sather is willing to take on Nash's megadeal, but Brown's contract would give the Rangers more flexibility going forward: He's under contract through 2013-14, earning $3.175 million per year. (For comparison's sake, Nash is signed through 2017-18 at a huge $7.8 million cap hit.) Brown's style could be a good fit on the John Tortorella/Ryan Callahan Rangers, and for what it's worth, those two are familiar with Brown from the 2010 U.S. Olympic team.
Of course, he won't come cheap. As Steve Zipay noted this morning, there's likely to be greater competition for Brown than there would be for Nash, and a team could overpay. The Rangers, meanwhile, have no need to overpay for Brown or anyone else. (Zipay suggests the Kings might be looking for a defenseman to replace Jack Johnson, who they just shipped to Columbus in the Jeff Carter trade.)
If Sather wants to make a splashy move for a big scorer, then Brown's not his guy. But the 27-year-old Brown would come at a lower cost, both in terms of salary and assets. He won't be the savior of the offense — not that it necessarily needs one — but can hit and forecheck and also pump in twenty-plus goals a season. (In his last four seasons, he scored 33, 24, 24, and 28 goals. He's got 15 through 61 games this season.)
Of course, the price has to be right, and with so many teams involved (the Devils, Flyers, Bruins, Sabres, Oilers, Maple Leafs and Canucks are all reportedly interested), they're unlikely to steal him.