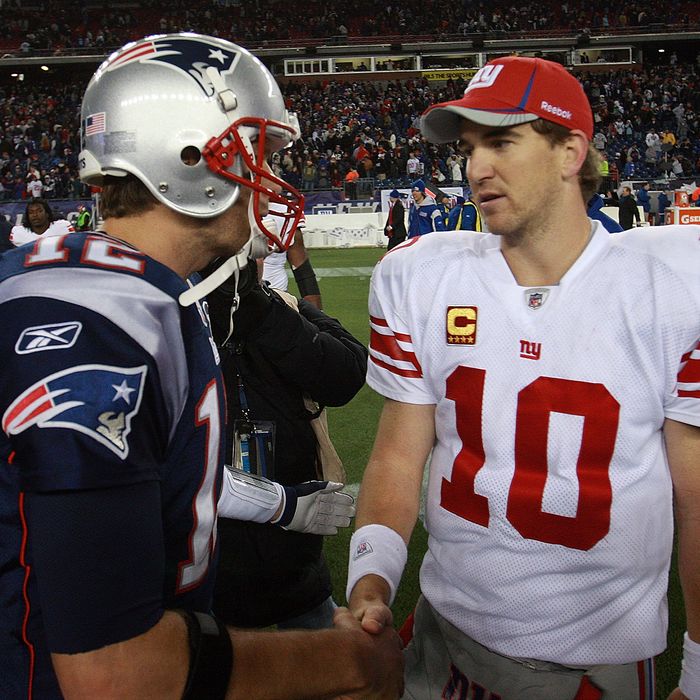 Tom Brady and Eli Manning.
A win on Sunday would do a lot for Eli Manning's legacy, for those who care about such things. He'd become the first Giants quarterback to win the Super Bowl twice. He'd have as many victories in the game as the great John Elway. He'd have more rings than his brother Peyton. And of course, much has been made about how a second Super Bowl title would boost his chances at induction into the Hall of Fame. But here's something else on the line Sunday: If the Giants win, Manning would establish himself as Tom Brady's tormentor.
No matter what happens on Sunday, Brady will go down as one of the best quarterbacks of all-time. He already has three Super Bowl victories in four trips to the game, and that's pretty incredible. But if the Giants win Sunday, Eli Manning will have beaten the great Brady twice on the sport's biggest stage. And we already know how hard Brady took the last loss: He says he still can't watch highlights from that game. That loss is the only blemish on the Brady-era Patriots' Super Bowl record, and so to lose again to the same team, and the same quarterback, would firmly establish Eli as Brady's Super Bowl nemesis.
It's probably worth acknowledging at this point that Brady and Manning aren't the only two players who will take the field Sunday, and they won't be the only ones who will determine the game's outcome. But they're the most important players on their respective teams, and it's hardly a new development that the quarterback of a football team is the center of attention. Hell, plenty's already been written about Brady's rivalry with Eli's brother Peyton. But it's the youngest Manning brother who has a chance to do for a second time what no other quarterback has been able to do: beat Brady in a Super Bowl.
The off-the-field differences between Eli Manning (a man married to his college sweetheart) and Tom Brady (a man married to Gisele freaking Bündchen) have long been apparent. But even as Manning turns in the best season of his career (and gets the credit he deserves for doing so), he's still something of an underdog here. He's still the guy who not all that long ago caused a stir by proclaiming himself an elite quarterback, going up against the guy with a pair of MVP awards. Manning may never accomplish some of the things Brady has on the field, but beating Brady twice in the Super Bowl would become a talking point (for fans and media) for the rest of his career — and the rest of Brady's, too. (We suppose they could meet in the big game again at some point, thus changing the story of their rivalry, but that's really getting ahead of things.)
Giants fans don't exactly need any more reasons to root for Eli Manning on Sunday. Neither, for that matter, do Patriots-haters. But if Manning pulls this off, he'd establish himself as a thorn in the side of Brady, which to anyone who takes joy in the suffering of the mighty Patriots, is exciting in its own right. Of course, all of this only applies if Eli wins on Sunday. Eli needs to win on Sunday.