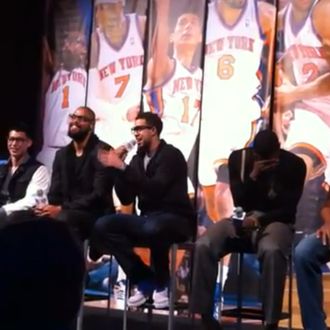 Landry Fields unleashes the pipes during last night's Team Forum.
The Knicks held their annual "Team Forum" event for season ticket-holders on Tuesday night. As I understand it, the event involved players (many of them bespectacled) sitting in front of a large group of fans — answering questions, telling stories, and just doing what they could to engage the audience. I have also been told that there were snacks. A very thorough recap of the event, which does sound like it was a good time, can be found here. The highlight of the evening, though, has been made available for your very own eyes.
See, the Knicks have a couple multi-talented individuals on their roster. Landry Fields, as we've witnessed previously, is a willing and fairly talented singer. His back-up and fellow youngster Iman Shumpert, meanwhile, quite likes to rap. Both, as luck would have it, agreed to perform during last night's event. Here's Landry singing his own Knicks-ified version of Travie McCoy and Bruno Mars's "Billionaire" and Shump spitting a quick semi-freestyle verse for the crowd.
Not bad, right? If only someone could have convinced Jared Jeffries to bust out his zither.