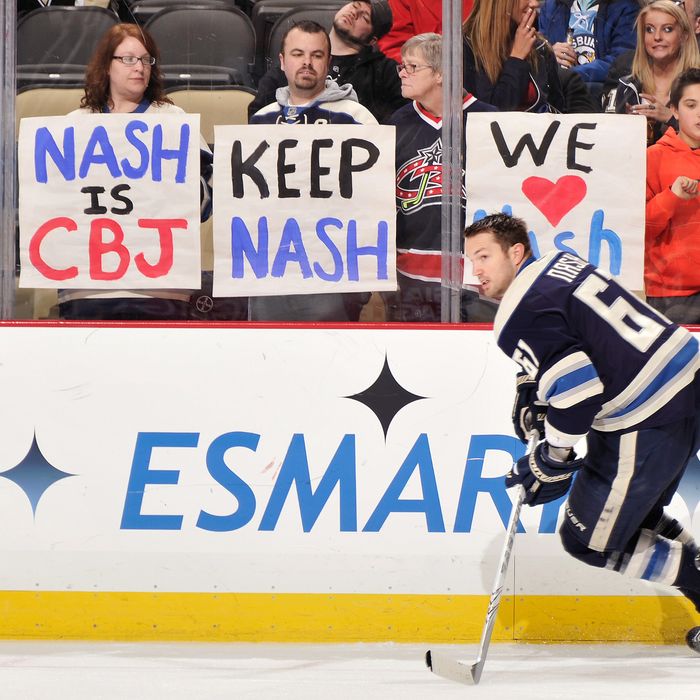 The NHL's trade deadline is mere hours away now, but according to multiple reports, it appears unlikely the Rangers will acquire Rick Nash from the Blue Jackets, as Columbus's asking price remains too high. Give Glen Sather credit here: It's one thing to target a big name — even if we can debate whether it's wise for a team in the Rangers' position to make such a move in the salary cap era — but he at least appears not to be targeting that big name at any cost. Sather was reportedly willing to add Nash's salary, and perhaps there was an exchange of players and picks that would have made sense for the Rangers. But if Columbus isn't willing to lower their demands, the Rangers can simply move on. They're not desperate to make a splashy move here. With his team seven points ahead in the Eastern Conference (in a season in which they weren't expected to be quite this good), Sather's in a strong position.
We didn't believe that this weekend's games would have much of an impact on whether Sather pulled the trigger on a trade for Nash, but we'll note anyway that they played a sloppy game in a shootout loss on Long Island on Friday, then played a better game the following night in an overtime win against the Sabres. We're not sure they're out of their slump quite yet, but in the meantime, they're earning enough points to maintain their lead in the conference.
The Rangers did make one move this weekend, sending the seldom-used Wojtek Wolski (and the remainder of his $3.8 million cap hit) to Florida for minor-league defenseman Mike Vernace and a third-round draft pick in 2013. It appeared at the time that the Rangers might have been shedding salary to give themselves a cushion for Nash, though of course, having sufficient cap space this season was hardly the biggest obstacle here. And unless Columbus drops its demands — or unless Sather ups his offer — it looks like Nash won't become a Ranger after all, despite all the chatter of the past week.