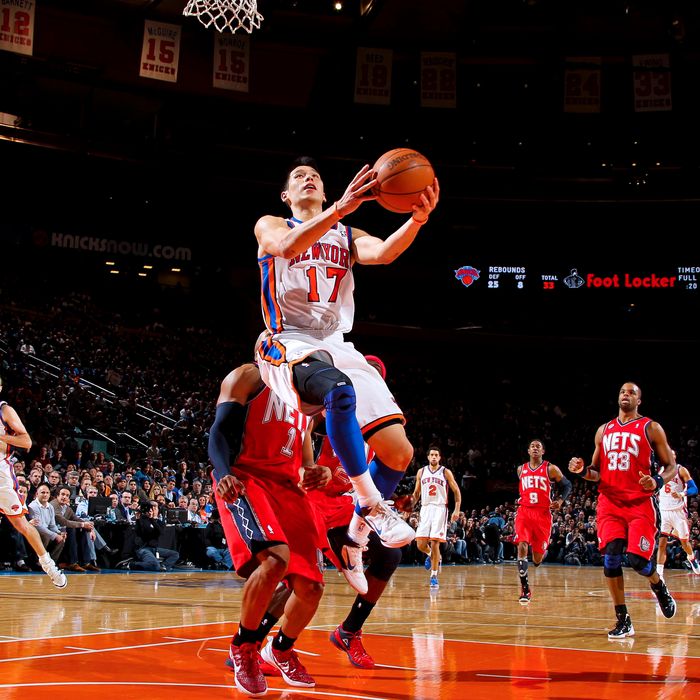 Our default photos for Knicks posts are now always of Lin, rather than Carmelo.
For everyone in the Eastern Conference playoff chase who isn't the Chicago Bulls or the Miami Heat, the goal for the second half of the NBA season will be to avoid the Chicago Bulls and the Miami Heat. The two obvious best teams in the conference are ensconced in the top two spots, and no one wants to end up with the No. 7 or No. 8 seed and have to play them in the first round. The Knicks are currently the No. 7 seed. Their opponent tonight, the Atlanta Hawks, are the No. 6 seed. The Hawks are where they want to be.
The easiest way for the Knicks to make sure they avoid the Heat or Bulls early is to win the Atlantic Division; they're four games behind the Philadelphia 76ers right now. (The complicated NBA playoff seeding rules are explained here.) The other teams they're chasing are the Magic (five games back), the Pacers (four and a half games back), and those Hawks (three and a half games back). It also probably should be noted that the Celtics are right there with the Knicks at the No. 7 seed (tied), with the Cavaliers (one and a half games back) and the Bucks (two and a half games back, gnawing at their heels).
Point is, games like this, in a shortened season, are of paramount importance. If the Knicks end up tied with the Hawks, games like this will be the tiebreaker. They have three games with the Hawks this season, and this one, the first, is the only one that'll be played at the Garden. With a scary game tomorrow night in Miami, the Knicks need a win tonight to assure they won't go into the All-Star break on a three-game losing streak and three games under .500. Particularly with that nasty beginning-of-second-half schedule.
As for the now-customary injury report, Iman Shumpert will also miss tonight's game with his knee issues; he's mercifully skipping the Dunk Contest as well. (There were reports that he was upset the NBA was making Jeremy Lin be a part anyway.) And Josh Harrellson is still out. Other than that, the Knicks are tip-top, so it's probably time to do some of that "meshing" everyone is always talking about. And also time to get back to winning. The best antidote to Linsanity is losses. If the Knicks can't win tonight, they'll be looking at an uncomfortably high number of those happening all at once.