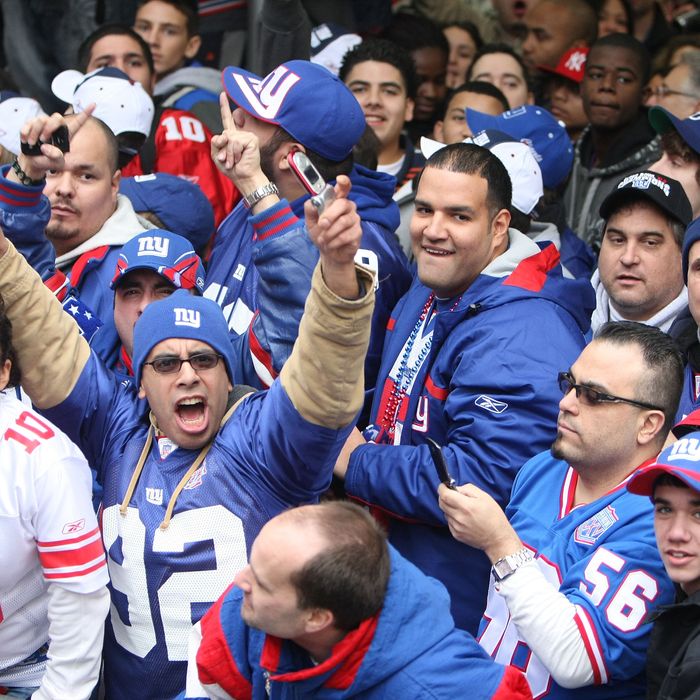 Where shall these humans gather?
One of our favorite little civic events of the last couple of years has been the Jets' AFC Championship Game rallies held in Times Square. They're silly little affairs that are still kind of awesome, with local news crews interviewing people wearing face paint and fireman helmets and many barrel-chested men booing Mayor Bloomberg when he stands at a podium and pretends to care about sports. (Last year, to our delight, they chanted "Plow our streets! Plow our streets!" when Bloomberg spoke.) We were all excited to go to the Giants' one this year … but it sort of looks like there isn't one?
The Super Bowl is only three days away, and it's really looking like the Giants aren't having a dopey pep rally sponsored by Pepsi or Chase or something. For crying out loud, the Knicks had a big pep rally in Times Square for making the playoffs last year. But the Giants are taking it easy. The whole organization must all be in Indianapolis already.
As far as we can tell, the celebrations/boosters the Giants have been involved with are:
Among others. This was the closest the Giants came to an actual pep rally. Scandalous, really.
In fact, the only people you could count on going crazy for the Giants were the elderly. One hundred residents of the Cedar Crest retirement community in New Jersey just went batshit nuts. Check them out.
And they even made a "rap" video. Bless their hearts.
Hey, if the Giants aren't gonna get their fans fired up, somebody has to. Get excited, Cedar Crest!