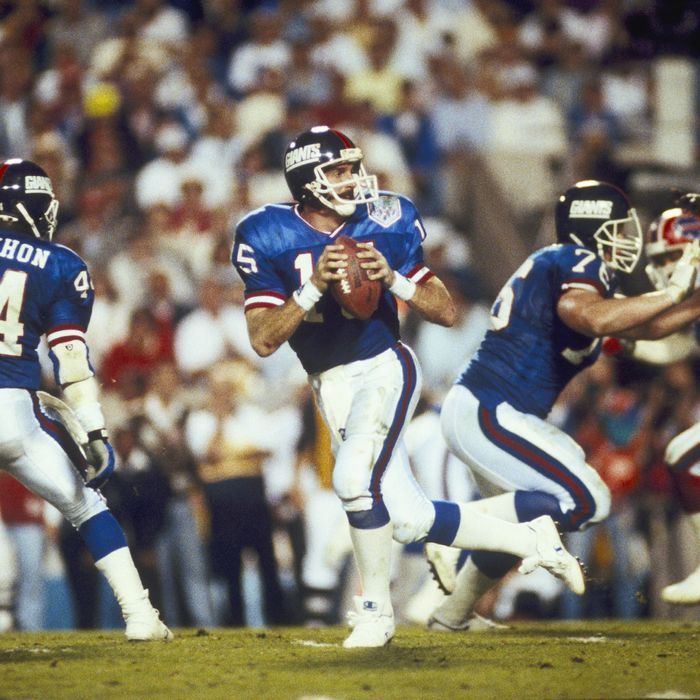 Among the many things we miss about the great Paul Zimmerman of Sports Illustrated — who suffered a stroke in November 2008 and has been unable to speak (or work) since then — are his yearly Super Bowl predictions. (We might miss the power rankings most of all, actually.) There was something special, almost ritualistic, about the yearly "Dr. Z's Pick!" on the cover of SI. It made the game official in our minds. Dr. Z had weighed in, likely with an aside about wine, or the Flaming Redhead. (Who has her own blog, by the way.) This Sunday marks the first Giants Super Bowl that Dr. Z didn't predict in the pages of SI. That makes us sad.
Everyone always remembers who wins the Super Bowl, but few people — understandably— remember later who was supposed to win the Super Bowl. So we thought, in the sorta obligatory "past Giants Super Bowls" post, we might look at what Dr. Z said about each game beforehand, as a matter of context. It's not as nice as having him here to predict this one — he'd have had a lot of fun with Bill Belichick this week, we suspect — but for now, it's the best we can do.
Super Bowl XXI: New York Giants vs. Denver Broncos, January 25, 1987, Rose Bowl, Pasadena, California.

What Dr. Z Wrote: Parcells has received a hatful of honors this season, but three years ago he was a very shaky young coach. His first season was a 3–12–1 debacle. The team was in turmoil. Carson wanted out. Taylor signed a five-year future contract with the USFL. At the end of the year there were strong rumors that Howard Schnellenberger would replace Parcells, whose contract had two years left.
"On Wednesday, Dec. 22, Bill and I had a talk in my office," Giants G.M. George Young says. "The next day I told him he was still the coach."
Changes were made. Young Johnny Parker became the Giants' strength coach. The club built a special weight room. Young and Parcells played the USFL market, bringing in Carthon and right guard Chris Godfrey and center Bart Oates, all key figures in the resurgence of the Giants' running game. From the Philadelphia/Baltimore Stars came Sean Landeta, a Pro Bowl punter this year. The pieces fell into place. The Giants had an offense to go with their traditionally strong defense.
My pick — the same as it was in September — Giants 20, Denver 17.
What happened: New York Giants 39, Denver Broncos 20. MVP: Phil Simms
Super Bowl XXV: New York Giants vs. Buffalo Bills, January 27, 1991, Tampa Stadium, Tampa, Florida.
What Dr. Z Wrote: You're Jim Kelly, and a nation of quarterbacks will be in your corner Sunday. If your Buffalo Bills beat the New York Giants in Super Bowl XXV, you will go down in history as the liberator, the man who set the QBs free. You run a no-huddle offense, you call your own plays. Sometimes you go 15 or 20 snaps without looking to the sidelines for help. You represent the past, the pre-Paul Brown, pre-Tom Landry era when a signal-caller was a play-caller, too. And you also represent the future, NFL coaches being a breed of copycats. What works for you could work for others. Have a nice Sunday, Jim, say all the poor souls squinting over to the bench to see what Coach & Co. has for them. Set us free.
We'll go with the hot team. The pick: Bills 24, Giants 17.
What happened: New York Giants 20, Buffalo Bills 19. MVP: Ottis Anderson
Super Bowl XXXV: New York Giants vs. Baltimore Ravens, January 28, 2001, Raymond James Stadium, Tampa, Florida.
What Dr. Z Wrote: It'll be Giants versus Ravens in the Super Bowl of the Uglies. Yards will be bitterly contested. Quarterbacks will get sacked, runners smacked, guys wearing the 50s and 90s will dictate the tempo, or lack of it.
The best thing the Giants have going for them is that they're peaking at the right time, on both sides of the ball. But Baltimore's defense, which should have been heavy-legged against Oakland and wasn't, will now have an extra week to rest.
The pick: Ravens 16, Giants 13, with turnovers deciding it
What happened: Baltimore Ravens 34, New York Giants 7. MVP: Ray Lewis
Super Bowl XLII: New York Giants vs. New England Patriots, February 3, 2008, University of Phoenix Stadium, Glendale, Arizona.
What Dr. Z Wrote (his final Super Bowl prediction, for now): I can't handicap this game by conventional means—rush schemes and offensive planning and the like. I can only go back to Super Bowl III, when I was the New York Post's beat man covering the Jets, and I had a hunch that they were primed for a major upset over the Colts even though it didn't seem logical. So I chickened out and picked the Colts by less than the huge spread. After watching the way the Giants handled themselves on Sunday, I have the same hunch. The mental toughness is unmistakable. I'm playing the hunch this time. GIANTS 24, PATRIOTS 20
What happened: New York Giants 17, New England Patriots, 14. MVP: Eli Manning
We love that he got the last one right, so gloriously right.