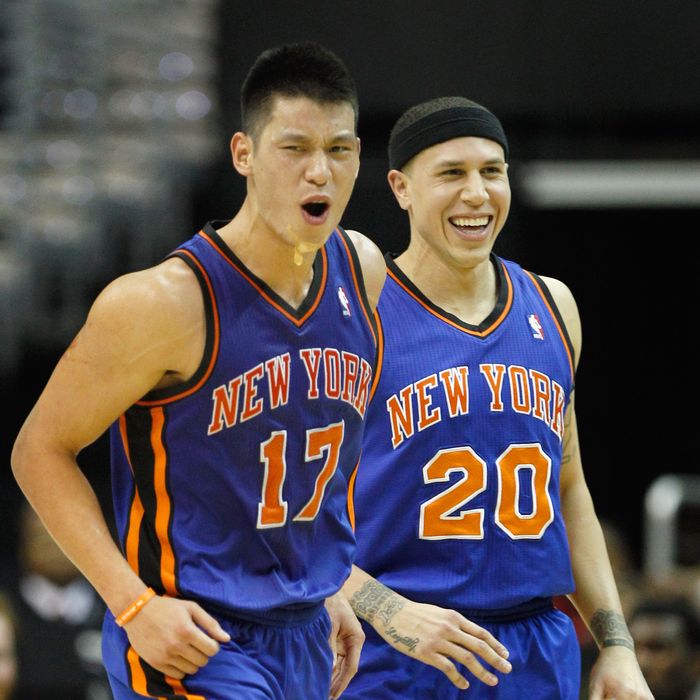 Imagine how disappointing tonight could have been for ESPN, a Connecticut-based subsector of the Walt Disney Corporation, and Related Affiliates. A week ago, on a Friday night, their prime NBA night, it looked like they were going to pit Kobe Bryant, Paul Gasol, and World Peace of the Los Angeles Lakers against a Knicks team that lacked its two superstars and was nearing last place in the Eastern Conference. Not even snickering at Magic Johnson's linguistic limbo could keep that game entertaining, despite the geographic advantages that surely put the game on the schedule in the first place. Then came Lin. Then came Jeremy. Then came Linsanity. And now, amazingly, it might be their most anticipated broadcast of the year.
The Knicks only have two games left without Carmelo Anthony and Amar'e Stoudemire; Amar'e will be back for Tuesday's game at Toronto. (Carmelo might not be back for another week after that, and maybe longer.) So tonight, and tomorrow at Minnesota, will be the last two times we see young Jeremy Lin in this pure, lone option state. There has been some discussion as to whether or not Lin will be able to play at this rate when the stars return, particularly Carmelo, who tends to prefer the ball in his hands, not some Harvard boy's. There has also been widespread giddiness about Amar'e finishing Lin's pick-and-rolls rather than Jared Jeffries. (Wait, is that "picks-and-rolls"?) No one quite knows what will happen when Amar'e and Carmelo return to mesh with Lin. All we know is what is going on right now.
It's a bit nutty to think that the Lakers — the vaunted, historic Lakers — are probably going to win tonight by double teaming the guy who was in the D-League a fortnight ago, but this is the measure of Linsanity we've reached. And if there were any point during the Tim Tebow madness when you wondered, What would it be like to sit through this overkill if I were actually a Broncos fan? then you should totally watch ESPN's pregame tonight, because Lin is about to get more media airtime than he's ever had, than any Chinese-American athlete has ever had, than the 2012 Beijing Olympics had. (Okay, not quite that. But it'll be close.)
As we feel obliged to remind everyone, the Linsanity is still a piece of a larger mission here: The Knicks could really use a split this weekend to help their playoff chances in this truncated season. (Current Hollinger odds: 42.6 percent.) But no one will be thinking about that tonight. Tonight, Linsanity goes nationwide. If you thought everyone was already talking about this too much, if Lin leads the undermanned Knicks to a fourth straight win tonight, over Kobe and the Lakers, watch out. This could go somewhere even crazier.